"We'll have that finalised and probably published in the next week or so but it does show that a majority of Americans are still susceptible to this virus," Redfield said on Thursday (AEST).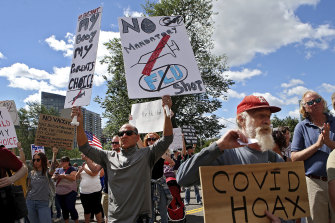 The early findings are significant because they raise further doubt about the ability of the US to achieve so-called herd immunity, which is when a majority of the population – generally 60 to 80 per cent – is vaccinated or develops antibodies through infection in order to stop the disease from spreading further.
The comments come as President Donald Trump continues to hold campaign rallies in the lead up to the election on November 3.
Trump continues to downplay the impact of the virus, telling a rally in Ohio this week that COVID-19 "affects virtually no one" apart from older Americans and those with pre-existing conditions.
The President has also consistently said that a vaccine is likely to be announced before the end of the year, although his own coronavirus taskforce officials have noted that it could take until April next year before all Americans could access it.
Among those officials is the nation's top infectious diseases expert, Dr Anthony Fauci, who also appeared before Thursday's HealthCommittee hearing, where he clashed with Republican Senator Rand Paul over the politician's "misconstrued" claims about the virus.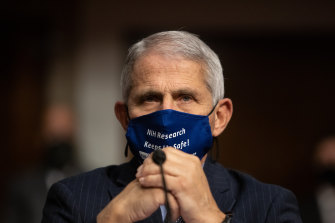 "Is man really capable of altering the effect of an infectious disease through crowd control? The statistics argue a resounding no," claimed Paul, a staunch supporter of the President and a vocal critic of the attempts to mitigate the virus in the US.
Loading
Later, he added that New York City had reached a high enough infection rate that it could achieve herd immunity – a suggestion that Fauci strongly pushed back as the Republicans tried to move on.
"Please sir, I would like to be able to do this, because this happens with Senator Rand all the time," Fauci said.
"You are not listening to what the director of the CDC said, that in New York it's about 22 per cent. If you believe 22 per cent is herd immunity, I believe you're alone in that."
Farrah Tomazin is a senior journalist based in the US for the 2020 presidential election.