More than 70 per cent of Premier's stores in the two countries are on holdover, meaning the retailer could close them without having to take the costly action of breaking leases. Premier is one of Australia's largest retail tenants.
Loading
The company did not pay any rent through April when its stores were closed in the first coronavirus lockdown, and paid a total of just $59.2 million in rent across the second half of the year while negotiations with landlords were ongoing.
"Premier Retail's highly profitable online capability and the flexibility of our property portfolio, combined with the decisions we have taken in response to COVID-19, leave the group best placed to maximise our position in the accelerating retail industry restructure," chief executive Mark McInnes said.
The threat comes as the retailer reported a strong set of full-year numbers in face of the pandemic. Its revenue declined just 4.3 per cent for the year to $1.22 billion, despite the company's stores being closed for nearly two months during the April-May lockdowns, and total sales declining nearly 20 per cent for the second half of the year.
But these declines were compensated for by the retailer's online sales, which jumped nearly 50 per cent for the year to $220.4 million, accounting for 18.1 per cent of total sales. Online sales also come at a higher profit margin than in-store sales.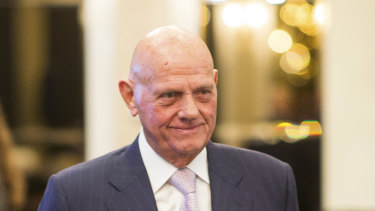 Premier received a total of $68.7 million in wage subsidies across the seven countries in which it operates. A total of $35.5 million was passed through to employees who were unable to work, leaving the remaining $33.2 million as a direct fillip to the business.
The company noted that Australia's JobKeeper wage subsidy scheme meant many casual and part-time workers earned more than they usually would have. It also stressed its eligibility for the scheme, noting that between March 11 and May 15, in-store sales declined 78.4 per cent.
"Throughout the devastating COVID-19 global health crisis, our absolute priority has and continues
to be the safety and wellbeing of our teams and our customers," Premier Investments chairman Solomon Lew said.
Loading
"The board and I are extremely proud of the dedication and professionalism displayed by all of our employees during these unprecedented times of hardship and uncertainty."
Premier will pay shareholders a final dividend of 36 cents, a slight decline on last year, bringing the full-year payout to investors to a total of 70 cents per share.
More to come.
Dominic Powell writes about the retail industry for the Sydney Morning Herald and The Age.