The Health Minister's performance yesterday had our chief reporter Chip Le Grand pondering Kafka, or one of his characters in particular: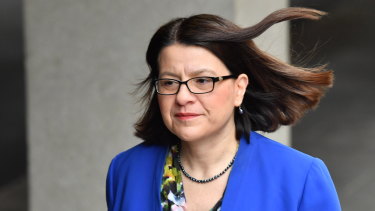 There were times when Jenny Mikakos would have felt like the hapless protagonist in Franz Kafka's The Trial.
It must be bewildering to be interrogated for hours about something you are said to be responsible for yet something you know so little about.
Unlike Joseph K., Kafka's fictional banker, Jenny M. at least understood why she was being questioned. More than 750 people have died in Victoria's second wave of the pandemic, which broke out of quarantine hotels on her government's watch.
Called before the hotel quarantine inquiry, she did her best to explain the part she played, as Minister for Health and Human Services, in decisions which affected this public health disaster.
The trouble is, she played almost none.
If her evidence is to be believed, and there is no reason to think she would make this up, she didn't even know private security guards were being used at quarantine hotels until after the virus had leapt its containment lines.
If only someone had thought to show her the Operation Soteria plan that clearly sets out her department's responsibilities and those of other departments involved in the hotel quarantine program. If only she had asked.
Alas, no one did until security guards working at two hotels were confirmed as COVID-19 cases. By then, the virus was on a tear through Melbourne's northern and western suburbs.
Yesterday, Health Minister Jenny Mikakos took the (virtual) stand and was questioned for three hours. She was the third minister in two days to deny responsibility for key elements of the hotels program. Here's how Michael Fowler and Tammy Mills saw the day play out:
Ms Mikakos told the inquiry on Thursday that she had not been involved in the hotel program's set-up and did not seek updates on it until two months later, after the first coronavirus outbreaks, even though her Health Department was the lead agency.
She said she was never briefed on the operational plan for hotel quarantine and did not ask for one, and she admitted she did not know that private security guards were working in the hotels until some had contracted COVID-19 in late May, setting in motion Victoria's second wave of infections.
Ms Mikakos took the stand under political pressure after the release of a scathing Health Workers Union letter which accused her of "breathtaking incompetence". The letter forced another key union, the Australian Nursing and Midwifery Federation to come out publicly to back her, as did Mr Andrews, who said he had "confidence in all my ministers".
With only one session left of the hotel quarantine inquiry, no government minister, police officer or emergency management boss has yet said they knew whose decision it was to use private security to guard returned travellers. The decision not to bring Australian Defence Force soldiers in to help is also mired in confusion.
Ahead of his afternoon appearance at the inquiry, the Premier fronted the media as usual: his 85th coronavirus press conference in a row. Whatever you think of him, you can't fault his dedication.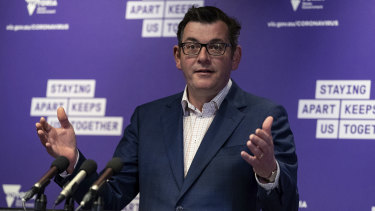 Reporter Ashleigh McMillan pulled together this summary of what he had to say this morning:
There are now 482 active cases of COVID-19, a drop of 50 cases since Thursday. There were 14 cases announced this morning across the state, with eight additional people sadly dying from the virus.
Premier Daniel Andrews repeatedly refused to answer questions about the hotel quarantine inquiry. He also declined to answer questions about evidence yesterday given by Health Minister Jenny Mikakos that she did not seek any briefings on the program for two months, despite her department being the lead agency. "It is not for me to make those conclusions. It is not for me to establish those matters," the Premier said.
Victoria will likely be given more clarity about plans for opening the state at the end of October this weekend because the state's numbers are dropping "ahead of schedule".
Mr Andrews says he doesn't believe there will be any international flights into Victoria until the hotel quarantine inquiry completes its report in November.
Victorian students studying for VCAL and VET qualifications will get special consideration and access to free courses if lockdown prevents them completing their course on time.
Mr Andrews says while some school students may need to repeat the year after falling behind due to online learning, there is evidence that children "do much better when they remain with their age-appropriate cohort". He said there would be further announcements on catching up pupils who have fallen behind.
Two of the COVID-19 cases reported on Friday are people who have a regional Victorian address, but they acquired the virus in Melbourne and have not returned, so they will not be included in the rolling 14-day average of country Victorian cases. There are now just 11 active cases in the regions.
There are 58 people in hospital with the virus. Eight people are still in intensive care, with six of those on ventilators.
Of the Victorian cases announced on Friday morning, four were in Greater Dandenong, and one in Casey, but it is not yet clear whether they were linked to the Hallam outbreak.
Seventy-seven Victorian healthcare workers are currently infected with COVID-19.
You can watch today's hearing live right here from 2.15pm:
Good afternoon! The COVID-19 hotel quarantine inquiry has saved the biggest witness for last: Premier Daniel Andrews is set to face questions of what he knew – or perhaps what he didn't know – about the program to quarantine returned travellers in private hotels in Melbourne.
Over the past two days, we've had Jobs Minister Martin Pakula, Police and Emergency Services Minister Lisa Neville and Health Minister Jenny Mikakos pass the buck on responsibility for the botched operation. The Shaggy song It Wasn't Me comes to mind.
I'm Hanna Mills Turbet and I'll be with you this afternoon. Legal affairs reporter Tammy Mills and state political editor Michael Fowler will continue to bring us minute-by-minute coverage as the Premier takes the stand. If we're lucky, we might also get some occasional comments from other senior members of The Age's editorial team.
Comments are open, so feel free to share your thoughts with us and other readers.