Once one of racing's biggest punters, Big Jack maintained he was a winner. Like chickens it was a business to him and he didn't finish in the red. Big Jack never divulged if there was a profit in the racing and breeding wings of the empire, built on their knowledge of employing the best people.
After Big Jack died in 2003 Bob sold Woodlands to Godolphin. While never a racecourse regular like Big Jack, Bob identified an up-and-comer from a television interview – Chris Waller – thus establishing the connection to Winx, of whom Bob's daughter Debbie Kepitis was a part-owner. And the renowned cerise silks of the Inghams will be carried by Dancing Gidget in the Quayclean Handicap at Rosehill on Saturday.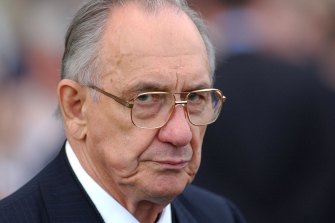 An Australian Jockey Club committeeman, Jack Ingham sat on countless appeals by jockeys and trainers leading to me going again to see the present set-up on Thursday, a far cry from the AJC jury I first experienced in 1960. Sir Alan Potter was in the chair, looking down on proceedings with disdain over a considerable nose. Alongside him was Mr. Justice Bill Dovey, renowned in the divorce courts at the time. In the austere stakes they were followed by Sir Frank Packer, glaring through huge sunglasses over a scowl, and later Jim Comans, hailed for his rugby league judiciary work.
Sitting in judgment on Thursday were the kindly Colin Tuck, learned from his decades as AJC racing manager, and Judy Foley, a woman with considerable turf nous, under the direction of Richard Beasley, SC.
No previous chairman was sharper or grasped the subject better than Beasley. I did five hours of an eight-hour slog. Before he took the stand I had Bowman 6/4 against beating the rap. After giving evidence the jockey was 4/1 on to win. Bowman went into detail about rhythm, "the most important ingredient", instinct, core strength as far as controlling a mount, hands and touch, a master horseman explaining his actions.
Loading
But Marc Van Gestel, chief stipe and prosecutor, pointed out that Bowman rode Farnan out for 12 strides early in the sprint, a contributing factor to the three-year-old racing fierce, which swung the balance against the jockey.
So he rode him along for a few strides more than he should have? An error in judgment? Yes, but hardly a suspension offence. In stewards' speak you could hardly be "comfortably satisfied" Bowman got it so wrong.
Beasley and his panel got it right.
Watching the video of the Run To The Rose during the hearing I was struck by the performance of runner-up Ole Kirk, who gets a return bout with Rothfire in Saturday's Golden Rose at Rosehill Gardens.
At Caulfield Russian Camelot is at similar short odds in the Underwood Stakes, a weight-for-age event and one with more substance that a 1400 metre dash for three-year-olds.
Of course, with even money each of two being offered, an all-up bet appeals but the edict of 100 ways a horse can be beaten and still be trying comes to mind. Farnan is a recent example.