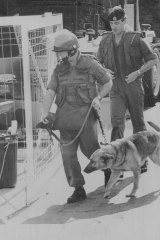 An anonymous telephone caller warned that three bombs had been planted at the stadium, two of which would explode.
Security staff sealed off the area around the stadium, refusing to let the public in or out.
As soon as the call came, at 2.34 pm, units from Federal and State police, the fire brigade and the army were called in. Ten bomb disposal experts and sniffer dogs took 90 minutes to search the stadium, including the grandstand, which will hold 10,000 during the Games, before giving the all clear.
Officials are concerned that other calls could come during the Games, which will continue until 9 October. They also fear that threats may be directed at other Games venues including the Chandler Complex, where the swimming will begin on Friday.