''For me, I feel like it really has. I mean it's an unfortunate situation and yeah what happened after that is … a huge learning curve. Yeah, sort of a situation I'm not glad happened, but if there is some good of it, then that's a positive, I suppose.''
Grimes said the AFL tribunal had not seen all the footage for the Dreamtime incident – which resulted in a free against Anthony McDonald-Tipungwuti that cost the Dons an important goal – when he was charged. This was also the catalyst for Grimes receiving unsavoury abuse on social media and threats that resulted in two men being charged by Victoria Police.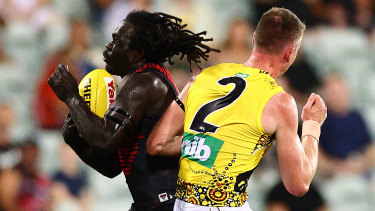 ''That particular incident, you know after seeing the vision, what I personally felt happened on the field, that was confirmed. I felt like I was … impugned and I was impacted on my attempt to spoil,'' he said.
Grimes said his legs had hit teammate Jayden Short in that motion and forced him to go ground.
''Basically the tribunal hadn't seen all the angles when I was charged or … accused of staging. And then yeah, as soon as they saw the footage, they agreed with my perspective and the charges were dropped.''
Loading
Grimes said he had never been concerned that the Tigers would unravel after the off-field drama that saw teammates Sydney Stack and Callum Coleman-Jones suspended for 10 matches after they were arrested by police at 3.30am in Surfers Paradise's most notorious district.
''No, not really. I don't think that was ever really on the cards for us,'' Grimes said.
''I think you put so much money in the bank in terms of, you know, cultural deposits and you do so much stuff, for not just for this year but all these years in the past.''