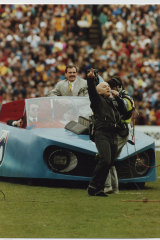 The former senior ALP staffer got in touch with a bunch of his footy mates from the Hawk Headquarters website and those with whom he used to stand in section M10 at the MCG in an effort to land the car. But that mightn't have been enough.
So he joined forces with Hawthorne, the former Age journalist and publisher who is well-connected with Hawks fans at the top end of town.
Included in the 32 winning bidders, who are largely but not exclusively Hawthorn fans, are current Hawks director and Swisse vitamins mogul Radek Sali, former Hawks board member Martin Ralston and ex-PBL chief executive and Hawthorn supporter Peter Yates.
"I realised that the only way this could work is if it was done in a collective manner, with a number of people working collaboratively," Collins said on Monday morning (AEST).
"I put the bid in, and then I went upstairs to call the next 30 minutes in the lead-up to lunch. So I'm on the roof of the pavilion at Lord's basically and my phone's exploding, as you can imagine."
For Hawthorne, this was a cause close to his heart.
"I was at the '91 grand final. I sat there in horror having to listen to Angry Anderson and laughing my arse off as this blue thing rolled out onto Waverley. For Hawks fans during those lean years, I had an old bashed-up VHS tape of the '91 grand final that I actually took to London with me," Hawthorne said.
"This is probably an act of COVID lockdown madness from a lot of us. We haven't even had the chance to meet up together, to talk about what we want to do, but there's already a lot of great ideas."
There remains a fair bit of mystery about what has happened to the Batmobile in the intervening years, although it was rolled out in the lead-up to the 2015 grand final, also played between the Hawks and the Eagles.
"One of the people involved in my group, his family actually stored it at an old shed in Docklands from '93 to '96. He says it was painted black and rainbow. He remembers firing it up and it still ran. We're kind of piecing together the history of this thing. But it was lost for many years," Hawthorne said.
Nor is this a vanity project. Collins and Hawthorne ultimately want to share the Batmobile with the people.
"It isn't about taking it out for a joyride on a Saturday or anything like that, far from it. There's an acknowledgement amongst the people that have been involved in this that this is a piece of footy history, a piece of Hawthorn history," said Collins.
"I've been advised that VicRoads have said they'll never register it.
"Who knows how we might be able to use this to help clubs as far as their efforts to raise money in tough times. We're mindful that footy clubs aren't too flush at the local level at the moment after what's happened this year."
Daniel is an Age sports reporter