He has not played a match of importance since February 2 when he was concussed in a freak batting accident while captaining Australia A against England A.
Rogers, the former Test opener, said Pucovski had been training well and was set to take the crucial No.3 spot.
"Every conversation I have had with him has been good. He is one of those players that seems more mature than he actually is," he said.
"At times, we can easily have these high expectations of him. He is still quite young in many respects, he is still learning the game, but I know when I speak to him, I am really impressed with some of the thinking he has with his batting.
"He understands the craft and mental side very well and he has got the game to do it. He has got some other challenges he is trying to overcome but, at this moment of time, he seems to be in a pretty good place."
However, Rogers said restrictive hub life would be "challenging" and it remained to be seen how players reacted.
"Who knows what is going to happen when people are lost in their own thoughts but we will do as much as we can to help him through," he said.
"Just try and keep occupied and relaxed perhaps. I don't think he is going to be on his own in terms of finding it difficult at times but, if he does, we will be there."
Pucovski's Victorian teammates Peter Handscomb and Marcus Harris, both Test aspirants, have refined their techniques heading into the new season.
Handscomb, the Victorian skipper, and opener Harris are determined to force their way back into the Test XI, but in the short term they will shape the Vics' fortunes.
Harris, who played the last of his nine Tests in England last year, has been picked off by bowlers driving or pushing outside off stump but has worked on his footwork.
"People seem to have a pretty strong plan to him. He has decided to grow his game," Rogers said.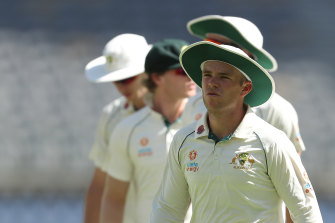 Handscomb's major issue in his 16 Tests has been his stance. He stands deep in the crease and plays primarily off the back foot, leaving him susceptible to swinging or full deliveries.
"Definitely, he is doing things differently. He wasn't blind to the criticism that was coming his way but you can't just go and change a habit that you have created in a day, a week or a month," Rogers said.
"It might take a year, two years at times. Not only are you trying to create a new habit but you are trying to get rid of that old habit as well."
Wicketkeeper Seb Gotch broke his right index finger in an intra-squad match and is fighting to be fit for the Shield opener. Leg-spinner Wil Parker will not make the trip to South Australia as he will have year 12 exams.
Jon Pierik is cricket writer for The Age. He also covers AFL and has won awards for his cricket and basketball writing.