"What I can also indicate to you is that if that were not the case, the broader reflection you're making on those public servants or others, I would not be standing here reporting 326 active cases. Nor would I be reporting 10 new cases when six weeks ago we had 725."
Loading
Today's figures bring the state's 14-day average, tied to the next stage of easing lockdown restrictions, to 18.9. That number needs to be five or less, for Melbourne to move to step three of the government's roadmap out of lockdown.
That crucial 14-day average used to be based on cases in Melbourne but for step three, it relies on the average for all of Victoria. About 8200 tests were processed in the past day.
There also have to be fewer than five "mystery" cases statewide over the previous two weeks for restrictions to be eased further.
Mr Andrews has also clarified some of the restrictions under the new phase of lockdown this week:
Loading
Cricket nets can be used in public spaces, so long as they do not require facilities beyond that;
Learner drivers can practise only if they are out for one of the four allowed reasons – for example, driving to the supermarket. You cannot go out solely for the purposes of driving practice;
There is no five-kilometre limit for weddings, but you cannot travel to regional Victoria for a wedding unless you are the celebrant;
All pools at apartment complexes, indoor and outdoor, are closed;
Dog groomers can only work from commercial, retail premises, not at home;
Gardeners and landscapers are allowed to mow your lawn and trim your hedges, as long as their work is contactless and can be done safely alone;
Melburnians can travel across the metropolitan border for childcare;
All pools at residential apartment complexes are closed. Only outdoor public pools are permitted to reopen.
Of the 10 new cases reported on Tuesday, three are linked to known outbreaks and seven are under investigation. In total, the number of active cases with no known source is 27.
Once the 14-day average has been driven below five and community transmission has in effect been wiped out, Melbourne can then move to on to step three of easing restrictions.
The Victorian government has tweaked the date linked to the threshold for this next stage to October 19, one week earlier than the original road map.
Even if the state reaches the data targets for new cases and "mystery cases" beforehand, the third step won't happen until then.
The latest cases come after Melbourne enjoyed its first night without a curfew since August 2.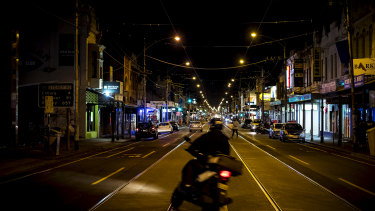 On Monday, three new locations were added to the Victorian Department of Health's register of businesses visited by a COVID-positive person in the past two weeks.
Anyone who has visited Dan Murphy's in Doveton on Sunday between 12.30pm and 3pm, and/or Woolworths and Continental Mart in Springvale during the same time is being asked to monitor for
any symptoms and get tested as soon as possible if they appear.
Monday was the first time specific timeframes were published for exposure sites in Victoria, while it has been standard practice in NSW for many months.
The seven people who died are a man aged in his 60s, a man in his 70s, one woman and two men in their 80s, and one woman and one man in their 90s. Six of those deaths are linked to aged care outbreaks.
Rachael Dexter is a breaking news reporter at The Age.