The Australian sharemarket has dipped further into the red, shedding nearly 100 points to hit a session low of 5853.2.
The index has fallen by as much as 1.7 per cent in the final session of the month and quarter – shedding $30 billion from its market cap in the process – with little to cheer about at the top end of the market.
Fortescue Metals, Fisher and Paykel, Amcor, James Hardie, Evolution, and Spark NZ are the only firms of the 50 biggest companies to move ahead.
Energy stocks have plunged 3.1 per cent on an overnight oil price decline, with gas giant Santos down 3.1 per cent despite its $3.6 billion Narrabri gas project getting the green light.
Corporate Travel Management is the best performer on the index, rising by as much as 19 per cent to an eight-month high $18.68 on the completion of its $262m institutional raising.
The ASX is badly underperforming other Asian markets.
US futures took a dive after a belligerent US presidential debate and are now down 0.5 per cent.
The first presidential debate of the US election rapidly descended into farce and name-calling as Donald Trump constantly interrupted Joe Biden and the Democratic nominee called the President a "clown" and told him to "shut up".
In the aftermath, at least one election expert called for the following presidential debates to be scrapped.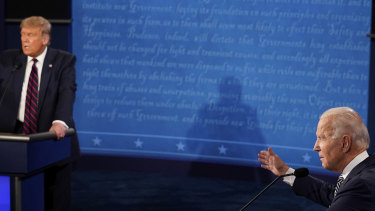 Debate moderator Chris Wallace, of Fox News, struggled to exert control on Wednesday (AEST) as a belligerent Trump dominated the stage in Cleveland, Ohio, by rarely refusing to let Biden answer a question in full.
"Will you shut up, man?" Biden asked Trump early in the debate, before labelling him "the worst president America has ever had".
"It's hard to get a word in with this clown," Biden said. "Excuse me, I mean, this president."
Meanwhile, Trump accused Biden of graduating "the lowest or almost the lowest in your class" when he attended university in the 1960s.
"Don't ever use the word 'smart' with me," Trump told his opponent. "Because you know what? There's nothing smart about you, Joe."
August dwelling approvals disappointed with a 1.6 per cent drop, missing the consensus view of a flat result for the month.
The fall, announced by the Australian Bureau of Statistics on Wednesday, comes after dwelling approvals surged in July by 12 per cent, having plunged in June.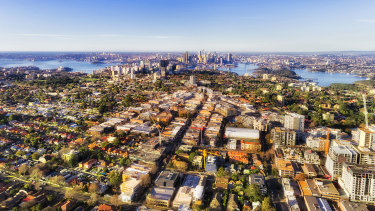 Westpac notes the August results were broadly driven by volatility in NSW, which posted a 14.2 per cent decrease in August after approval delays associated with the initial lock-down led to a 32 per cent increase in July.
NSW unit approvals weakened by 31.9 per cent following a 63.9 per cent jump in July.
Nationally, a significant 11 per cent fall in apartment approvals partially offset a 23 per cent rise in July, which the lender said was "unsurprising given the bundling of approvals causing month-to-month volatility".
For the other states, gains were particularly strong in Western Australia (up 33.8 per cent) and Queensland (up 8.1 per cent).
"As we expected, the impacts of the Victorian lockdown were not reflected in the August release due to the time lag," Westpac said in a note.
Victorian approvals rose 1.8 per cent for the month, Tasmania fell 26.2 per cent, and SA dropped 4.8 per cent.
On a positive note, private house approvals saw a back-to-back gain of 4.8 per cent, with ongoing support from the Federal Government's HomeBuilder scheme.
ANZ notes non-residential approvals jumped 40.7 per cent to their highest level since January this year, following a volatile June and July.
"Over the remainder of 2020 and into 2021, low population growth, the weak labour market outlook and the deterioration in the rental market in some parts of the country will weigh on residential approvals," ANZ said.
"But we expect house approvals to be more resilient than unit approvals, due to HomeBuilder."
Meanwhile, credit growth was flat in August, just above market expectations for a 0.1 per cent decline.
This follows a 0.1 per cent decline in July.
The ASX is lower in the final session of the month and quarter, though the index has improved from a 1.5 per cent opening plunge.
The local benchmark was 1.1 per cent lower at 5886.2 in early afternoon trade. All sectors remained in the red.
The big banks were again weak, with Commonwealth Bank and ANZ each down 1.5 per cent, NAB 1.6 per cent lower, and Westpac down 0.8 per cent.
Rio Tinto fell 0.6 per cent and BHP was down 1.6 per cent. Biotech CSL lost 1.4 per cent, while there were declines for retail conglomerate Wesfarmers, supermarket Woolworths, investment bank Macquarie, and Transurban, Telstra, and Afterpay.
The energy sector was 2.3 per cent lower after an overnight oil price plunge, amid heightened coronavirus fears in parts of the US and Europe.
The ASX is badly underperforming other Asian markets. US futures were up 0.6 per cent at 12.45pm AEST
Activity in China's services sector expanded at a faster pace in September, official data showed on Wednesday, as demand across the economy continues to recover from a coronavirus-induced slump.
The official non-manufacturing Purchasing Managers' Index rose to 55.9 from 55.2 in August, data from the National Bureau of Statistics showed. The 50-point mark separates growth from contraction on a monthly basis.
China's services sector, which includes many smaller, private companies, has been slower to recover from the health crisis than manufacturing, with heavy job losses, pay cuts and fears of a second wave of infections keeping consumers cautious.
The official September composite PMI, which includes both manufacturing and services activity, rose to 55.1 from August's 54.5.
Reuters
Corporate Travel Management has surged to an eight-month high on the resumption of trade after a $262 million institutional raising.
The firm shot up by as much as 19 per cent to $18.68 – the best price since the end of January – after completing the first component of the raising launched on Tuesday to buy North American business Travel & Transport.
Corporate Travel's $13.85 per share offer was taken up by 90 per cent of eligible investors.
As disclosed in the announcement of the raising, Jamie Pherous, Corporate Travel's founder and managing director, did not participate in the entitlement offer.
The company said the shortfall arising, as a result, was allocated to selected cornerstone investors. The remaining shortfall was allocated to current institutional shareholders who bid for new shares in addition to their entitlement on a pro-rata basis.
The firm will attempt to raise another $113 million via a fully underwritten retail offer, which opens on October 6.
Lung tracking startup 4D Medical has emerged from its trading halt to tell investors it has received regulatory approval to sell its respiratory imaging software in Australia.
The stock jumped 12.5 per cent on the news to sit at $1.72 at 11.50am AEST.
The company, which hit the ASX boards earlier this year, had just received US FDA approval to sell its flagship product and had been working on getting Australian approval for the platform.
The Therapeutic Goods Administration has now approved the software for inclusion in the Australian Register of Therapeutic Goods.
Chief executive Andreas Fouras said the US market continued to be the company's focus but getting the tick of approval in the company's home country was an important development.
"Australia is our home and we believe we can now move quickly to get traction through leveraging our hometown advantage and relationships faster than any other market," he said.
The Australian sharemarket has improved somewhat after a 1.5 per cent opening plunge, though all sectors remain in the red.
The benchmark index was 1 per cent lower at 5892.4 by 11.30pm AEST, with only a handful of big players in the black: Fortescue Metals, Newcrest Mining, Fisher and Paykel, and Amcor.
There were declines for the big four banks, BHP and Rio Tinto, biotech CSL, Wesfarmers, Woolworths, Macquarie Group, Transurban, Telstra, and Afterpay.
US markets pulled back ahead of the first presidential debate between Donald Trump and Joe Biden. The event is currently underway in Ohio.
Rising coronavirus case numbers in parts of Europe and the US have also fuelled concerns over global growth, knocking oil prices sharply lower.
It's the final session of the month, and also the quarter, with the ASX on track for its first monthly decline since March.
US futures are currently 0.2 per cent lower.
NSW has recorded a fifth consecutive day without a locally acquired coronavirus case.
Follow our live and free coronavirus blog here
The state recorded four new cases in hotel quarantine during the latest 24-hour reporting period. The new cases bring the state's total to 4035.
In more good news, testing numbers were up: there were 13,575 tests recorded in NSW during the reporting period, after two days of figures hovering below the 6400 mark.
The NSW government has also approved plans for the NRL grand final to go ahead at ANZ stadium ahead of a crowd of 40,000 people.
The event has been basically a done deal since the government eased restrictions on stadium capacity earlier this month.
Meanwhile, no new COVID-19 cases were diagnosed in Queensland overnight after more than 6700 people were tested in the past 24 hours.
The last time the state recorded a new case was on Sunday, a teenager who tested positive while in hotel quarantine.
Premier Annastacia Palaszczuk said five cases remained active.
President Donald Trump and former vice president Joe Biden are facing off in Cleveland Ohio for the first of the presidential debates.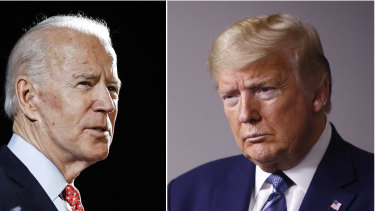 You can follow the event live here