The details of the extent of the fire damage to state forests come days after the Herald reported that Deputy Premier John Barilaro had insisted timber contracts held by state-owned Forestry Corporation be met from forests such as Lower Bucca near Coffs Harbour.
The Environment Protection Authority, which regulates state forestry compliance, has sought to halt logging in the Lower Bucca to preserve key habitat for koalas and other vulnerable species. Efforts to place restrictions based on the presence of tree hollows and other measures have also been turned down.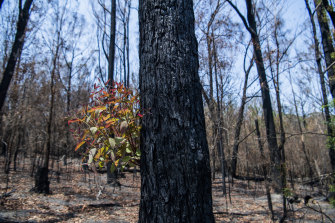 A spokeswoman for Forestry Corporation said the area of state forests available for logging is about 690,000 hectares out of 1.9 million hectares of the total state forest lands.
While the area of harvestable timber damaged by fire was large, the intensity of the bushfires varied.
"On the north coast, about half of the area of forest available for timber harvesting were not burnt and about 20 per cent burnt at low severity which does not generate the same impacts as more intense fires, " she said.
Loading
Independent MP Justin Field said NSW's logging industry was already facing wood-supply challenges before the fires and it now required "a complete rethink".
"The environmental impact of logging is increasing given the critical importance of unburnt forest as refuges and the negative impact of logging on forest recovery," Mr Field said.
"It's time to exit public native forest logging in NSW and for the government to work to transition the timber industry to plantation timbers and private native forestry," he said. "Our state forests are worth far more standing as ecological and recreational reserves and carbon sinks."
The data also showed that the fires damaged a quarter of the state-owned softwood plantations, or 57,000 hectares. The blazes also scorched about a quarter of the privately held softwood and hardwood plantations, or about 51,000 hectares.
Private Native Forestry areas also suffered damaged over 213,000 hectares, or around 1200 such approved plans, the document showed, without providing a proportion of the total.
Peter Hannam writes on environment issues for The Sydney Morning Herald and The Age.
Most Viewed in Environment
Loading