A golden moment for The Indomitable Lions
In a moment that will never be forgotten for African football, Cameroon beat Spain in a thrilling men's final to win the nation's first gold medal in any event.
Spain looked as if they had the gold wrapped up as they went up 2-0 , with Xavi and Gabri putting them in control. But Samuel Eto'o – plus an own goal from Spain – locked things up at 2-2 after regular time.
Pierre Wome then slotted home the decisive penalty in a 5-3 shootout victory, as Cameroon added the Olympic crown to the African championship this year.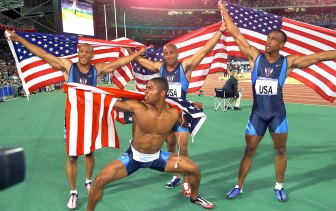 Second gold for the fastest man on Earth
American track star Maurice Greene anchored the US 4x100m relay to gold on another spectacular night at the track and field. Greene won gold in the 100m earlier and pocketed a second as he powered home for Jon Drummond, Bernard Williams and Brian Lewis. Brazil and Cuba shared the minor medals.
It wouldn't be a double for the Americans, however, even with Marion Jones, who demolished the women's field to win the 100m title. The USA finished third in the women's relay, with the Bahamas beating Jamaica to gold.
Australia finished fourth in the women's 4x400m relay, with Olympic champion Cathy Freeman unable to bridge the gap to get her side on the podium. Russia took gold ahead of the Czech Republic and Nigeria.