A Melbourne school's decision to stand down three staff members during remote learning breached the Fair Work Act, the workplace umpire has found.
The P-12 Peninsula Grammar School in Mount Eliza has been ordered to withdraw its decision to stand down two library technicians and one classroom assistant, and to allow these employees to return to work.
Peninsula Grammar has vowed to appeal the decision, while the Independent Education Union said it was pursuing the school for "underpayments arising from their earlier stand down of support staff".
Under the Fair Work Act, an employer can send employees home and not pay them if there is a stoppage of work for which the employer can't be held responsible, such as a natural disaster.
The Fair Work Commission found this week that the work of the school had not stopped during remote learning.
"I … do not accept that the business of Peninsula Grammar School is to provide onsite education. That would imply that Peninsula Grammar School is no longer meeting its core responsibilities as a school because the students are not onsite," Commissioner Bissett said.
"The first precondition for enabling a stand down is not met."
In addition, Commissioner Bissett said Peninsula Grammar School's "version of fairness weighs heavily in its favour and has little consideration for the employees (except that their employment has not been terminated)."
The union said the stand-downs were both "unjustifiable and unlawful".
Peninsula Grammar principal Stuart Johnson said the school was seeking a stay of the orders and was working closely with its legal team to review its options.
Good afternoon and thanks for reading our live coverage of the coronavirus pandemic in Australia and beyond. Here is what made news this morning:
This is Mary Ward signing off the blog. Pallavi Singhal will continue our live coverage through to the evening.
Up to five people can attend a wedding in Melbourne under the current rules, which includes those getting married, their witnesses and one other person (celebrants aren't included). Were you planning to get married this year? Will you do so under the current rules or are you postponing for next year, possibly even forever? We'd like to hear from you.
Lawyers defending the Andrews government in the curfew challenge bid have argued that since the policy has been abandoned the restaurateur who brought the claim no longer has the right to sue the state.
Victoria's Solicitor-General Kristen Walker, QC, told Supreme Court judge Tim Ginnane on Wednesday that cafe owner Michelle Loielo's legal challenge to the 9pm to 5am curfew was now invalid because the law was scrapped and there was no longer a "concrete situation" to adjudicate, and as such she does not have "standing".
Ms Loielo, an aspiring Liberal Party MP, filed a lawsuit on September 14 claiming the curfew was unreasonable, disproportionate and violated the human rights of millions of Victorians.
The curfew was cancelled by the government on Sunday.
Ms Walker also said that Ms Loielo's evidence didn't support the notion that it was specifically the curfew that had harmed her business and that it was the totality of the restrictions, such as rules on movement and dining in restaurants, that had hit her bottom line.
The other restrictions are not the subject of the lawsuit.
Lawyers representing the restaurateur told the court her claim remains important because the Andrews government still has the power to reimpose a curfew at any time.
One of Ms Loielo's barristers, Dr Jason Harkess, said his client lives in fear that the government may bring the restrictions back at any moment and that it was of little comfort to her that they had been eased.
"Ms Loielo's rights can be taken away by a second curfew as quickly as they were given back," Dr Harkess said.
Associate Professor Michelle Giles, who is being sued in her capacity as the state's deputy public health commander, will take the stand in her defence tomorrow morning.
The case continues.
World Bank president David Malpass is seeking board approval for a $16.8 billion coronavirus vaccine financing plan to help poor and developing countries secure a sufficient share of vaccine doses when they become available in the coming months.
Mr Malpass said the initiative, part of $160 billion in coronavirus aid financing pledged by the multilateral lender, is aimed at helping countries procure and distribute vaccines early to healthcare and other essential workers and expand global production. He said the board was expected to consider the plan early next month.
Global competition for early coronavirus vaccine doses is already fierce, months ahead of any approvals, as wealthy countries move to secure supplies.
The US government has pledged over $3 billion to secure hundreds of millions of doses of vaccines under development by Britain's AstraZeneca and by US drug giant Pfizer and Germany's BioNTech.
Mr Malpass said the World Bank plan aimed to put poor and middle-income countries, where the virus is spreading most rapidly, on the same footing as richer countries by ensuring they have financing to secure supplies and a system for distribution, which will encourage drugmakers to meet their demand.
Without early doses that can bring outbreaks under control, many of these countries risk economic collapse that will push hundreds of millions of people back into poverty.
"Our goal is to alter the course of the pandemic for the low- and middle-income developing countries," Mr Malpass said. "This is a market signal to the manufacturers that there will be financing available for the developing countries and there will be demand. We will begin asking the manufacturers to begin creating allocations for these countries."
Mr Malpass said the World Bank was also asking wealthy countries that have "over-reserved" more doses than they will ultimately need to release them to poorer countries.
Reuters
Infection control experts say Victoria's decision to hold back on opening indoor dining is sound science because the risk of spreading the virus is much higher indoors than out.
Under Victoria's road map, indoor dining won't resume until the state has had 14 consecutive days without any new coronavirus cases.
The restaurant industry says there is no conclusive Australian evidence showing indoor dining is more risky than outdoor dining, but Australasian College for Infection Prevention and Control president Philip Russo said there was strong evidence COVID-19 spreads much more easily indoors.
"I feel for these people. It's tough," Associate Professor Russo said. "But the evidence at this stage is an 18-fold increase of transmission risk indoors, compared to outdoor environments."
Fremantle Dockers forward Jesse Hogan has been forced into hotel quarantine and charged after allegedly breaching self-isolation requirements.
The 25-year-old returned to Perth on September 21 and was required to isolate at home until October 6.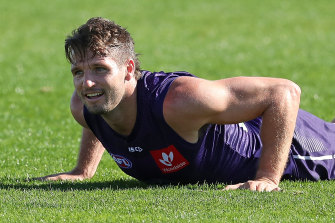 WA Police said the night after Hogan arrived home he breached the requirements twice by allowing a woman to visit him.
He has been charged with two counts of failing to comply with a direction and will face court at a later date.
As we reported earlier today, Australians are being promised a swift boost to the economy from next week's federal budget as economists and industry leaders warn of a grim Christmas if the federal government relies too heavily on tax cuts to help workers.
Prime Minister Scott Morrison said the government was considering the effectiveness of "every single measure" to sustain aggregate demand in the economic recovery from coronavirus, amid a debate about the time required for income tax cuts to take effect.
Labor leader Anthony Albanese will outline an alternative budget agenda, including more generous income support for those who have lost their jobs at a time when the government is scaling back payments.
Coronavirus has affected Australians in many ways, particularly in Melbourne with its prolonged lockdown. We're keen to talk to families, young couples, retirees living off of their super, and single people on what they'll be looking for in the federal budget.
Premier Daniel Andrews finished his press conference today by answering a pointed question put to him about his leadership over the state during the state's second wave of COVID-19.
"Premier, if a CEO or a company director had presided over a company that made decisions that led to the deaths of at least 779 people would you expect that person to resign?" a reporter asked.
Mr Andrews responded that he was "not a corporate commentator" but used the analogy to hit back, and defend his job.
"To use your example, if there were a CEO that found themselves in that set of circumstances and if there was a process that hadn't yet completed, that a report had not been written then that certainly wouldn't be a matter for right now would it?" he said.
"You would have waited, just as I am, to wait and see what Judge Coate finds, what she recommends, what she reports and that's five, six weeks off.
"But I will make the point again, lest anyone be in any doubt, I do not run from problems. I do not quit to avoid the hard work that has to be done. I will be here every day that I'm given the honour of this role to get the job done."
The coronavirus pandemic – which had infected more than 7 million Americans – was an early topic of conversation at the US presidential debate between President Donald Trump and Democrat nominee Joe Biden today.
The pandemic has arguably been President Trump's biggest electoral weakness, with Democrats claiming his early mishandling of the virus is largely to blame for the fact that more than 205,000 Americans have now died from COVID-19 and millions more are struggling to make ends meet, Farrah Tomazin reports.
The President's central defence was that he closed down the border to Chinese travellers in late January, coupled with the argument that Mr Biden did not initially support this move and accused him of being xenophobic.
Mr Biden, however, hit out at the President for knowing the risks months ago but still not having a plan to deal with the problem.
President Trump responded by saying he had done "a phenomenal job."
"We did. We got the gowns, we got the masks, we made the ventilators … and now we're weeks away from a vaccine," he said. "We've done a great job."