"Mistakes are human, but I don't see how the umpire can miss that. She didn't see a double bounce," Mladenovic said. "Unfortunately, she will continue at Roland Garros, and I won't continue at Roland Garros."
Mladenovic would have been pleasantly surprised if Siegemund acknowledged the double bounce herself.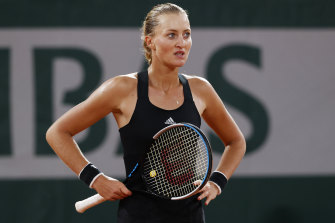 "If she would have done it, she would have all my respect and be super fair play," Mladenovic said. "But she's not the one responsible. I think the chair umpire is the one that should be really focused on that call."
In her most recent tournament, at Flushing Meadows this month, Mladenovic threw away a 6-1, 5-1 lead in her second-round singles match. Then she got kicked out of doubles at the US Open — where she and Timea Babos were seeded No. 1 — because she came in contact during a practice session and card game with a countryman, Benoit Paire, who tested positive for the coronavirus in New York.
Loading
Public health officials said Mladenovic was at risk and was placed in quarantine after her singles exit but just before her doubles match.
"Definitely not the preparation I wanted to have coming up to Roland Garros. I couldn't prepare the way I wanted, so it obviously affected my whole preparation," Mladenovic said. "I wanted to play Rome, to play Strasbourg, but I couldn't be ready for it."
Not having access to a gym was bad enough, but stuck inside four walls was on another level.
"It's brutal for the body when you [have] eight days [of] lockdown in a hotel room," Mladenovic said Wednesday. "Even the first week, where I competed in my singles, I was basically isolated and couldn't train."
All in all, she said, "Not a great experience."
AP