In written answers provided on Thursday to a Senate committee, Australia Post confirmed the attendance of the high-power quartet at the July 22 tour.
Loading
"A visit to the Brisbane Parcel Facility was offered to Senator Hanson by Australia Post, as the Brisbane Parcel Facility is a significant facility in the state the Senator represents," it said.
"The tour provided an overview of the facility. Senator Hanson did not receive a briefing in relation to proposed changes to Australia Post services during the visit."
Earlier that month Senator Hanson had sent 114 parcels to the residents of a North Melbourne public housing tower who she had labelled "drug addicts" and "alcoholics". They were subject to strict lockdown measures amid a COVID-19 outbreak.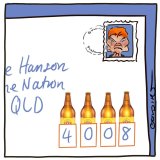 City of Melbourne officials overseeing distribution of food, medical supplies and mail at Canning Street, North Melbourne opened one parcel addressed "to the householder" of an unoccupied flat and decided against distributing the stubby holders. The paraphernalia would, sources said, inflame what was already an "emotional tinder box" within the tower following Senator Hanson's comments on the Nine Network's Today program earlier that week.
On July 11 Ms Holgate and her senior legal counsel, Nick Macdonald, said they would notify "the police or other relevant authorities" unless the stubby holders and a hand-written note that read "No hard feelings" were delivered "without further delay".
In its written statement to the committee, Australia Post said Senator Hanson's tour of the Brisbane facility was referenced in "commercially sensitive material" for a meeting on July 20 between Federal Communications Minister Paul Fletcher and Ms Holgate.
"The tour was not discussed during the meeting," it said.
The organisation said it regularly provided tours of its facilities to "representatives across all levels of government" and "similarly engages with representatives on a range of issues".
Loading
The federal opposition has demanded Australia Post chairman Lucio Di Bartolomeo and general counsel Nick Macdonald front the upcoming Senate estimates hearing along with under-fire chief executive Christine Holgate to face a grilling over a series of scandals that has engulfed the organisation in the past months.
Opposition communications spokeswoman Michelle Rowland said many Australians were frustrated with delays to parcel and mail deliveries resulting from the Morrison government's temporary changes to the service's delivery frequency.
"I'm sure they would much prefer Australia Post executives focus on improving service and supporting their workforce, than playing political games or threatening to call police over the delivery of stubby holders," Ms Rowland said.
Get our Morning & Evening Edition newsletters
Rob Harris is the National Affairs Editor for The Sydney Morning Herald and The Age, based at Parliament House in Canberra