Aged Care Minister Richard Colbeck's promise to require facilities to employ on-site infection control experts to access federal COVID-19 funding has been called into question after health bureaucrats revealed they are not enforcing the requirement.
Senator Colbeck announced on August 31 that aged care providers accessing $245 million worth of extended support payments would "be required to have a designated infection control officer on site, as a part of their upgraded COVID-19 management plan."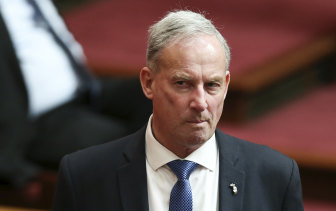 But, a month later, federal health department bureaucrats have revealed the condition is not being enforced – and that aged care operators do not actually have to fill the role with a staff member who works on-site, or on a full-time basis.
Health officials told the COVID-19 Senate inquiry hearing on Tuesday that they were still "discussing" with the sector what the requirements were and "doing work with the state governments around provision of training to assist those organisations" that did not have an infection control officer.
The Aged Care Royal Commission's special COVID-19 hearings last month heard that a lack of infection control training and PPE in Victorian aged care facilities hastened the spread of the deadly coronavirus through the sector, killing hundreds of residents.
Asked if a staff member with clinical expertise in infection control had to be "in the facility at all times", Deputy Secretary Michael Lye said: "That's not part of what we've asked for."
"We want somebody who provides leadership and instills that across all staff," Mr Lye said.
While "typically" the role would be filled by a nurse, he said, the department had not specified what qualifications they must have or whether they had to be a permanent staff member, although the person "has to be connected to the governance of the organisation."
"It can't be just somebody who comes in once off and then walks away," he said.
The Australian Medical Association and the Australian Nursing and Midwifery Association are campaigning for changes to keep aged care residents safe from COVID-19, including the requirement to have a registered nurse on-site at all times and infection control training for all staff.
Mr Lye also revealed that only nine of Victoria's 800 aged care facilities had applied for a grant to help them ensure that staff did not work across multiple facilities, which is available until October 26.
Health Department Secretary Brendan Murphy said Victoria's aged care outbreak had unfolded "predominantly as a result of infected workers bringing the virus into facilities."
Victorian contact tracers have identified the movement of casual, low-paid workers between multiple facilities as a driver of the spread across Melbourne, as more than 2000 were infected.
Mr Lye said providers had until the end of the financial year to lodge their claims for the "one worker, one site" grants, and that the department would do "some auditing" to check if those who received the payment were actually restricting workers to a single site.
"The reason why there isn't a large number of applications is that people will put those applications in retrospectively," Mr Lye said.
"They'll put them in at the end of the period in which they're doing this activity."
Australia has recorded 19 new coronavirus cases today. Here is a breakdown of the numbers.
Victoria recorded 15 new cases today, after recording 13 and 10 new cases on Tuesday and Wednesday, respectively. Eight of the cases are under investigation. Active cases in the state have dropped below 300 for the first time since June.
NSW recorded three new cases. Two are in hotel quarantine, but one is an "old" case identified through pre-work testing. The man, from south-west Sydney, tested has swab tested negative for the virus but did have immunities for it, indicating to NSW Health they had caught the virus around eight weeks ago when it was circulating in that region.
As we just reported, a returned traveller from India has tested positive in hotel quarantine in Perth.
Sadly, two more Victorians have died from the virus overnight. Both of the deaths are linked to aged care. Victoria's death toll is now at 800.
This is Mary Ward signing off the blog. Pallavi Singhal will continue our live coverage through to the evening.
Western Australia has reported one new case of COVID-19 overnight.
The new case is a male in his 30s who travelled to Perth from India. He is in hotel quarantine.
The state's total number of COVID-19 cases is now 685.
There was one recovery overnight, 22 active cases are being monitored and 654 people have recovered from the virus in the state.
There have been 422,862 COVID-19 tests performed in WA. Of those tested, 72,522 were from regional W.
Prime Minister Scott Morrison has just finished his address to the National Press Club in Canberra, at which he announced a $1.5 billion budget plan to sustain local manufacturing  targeting six priority areas ranging from food to medicine and clean energy.
The federal government have said their number one economic priority is job creation, boasting that 760,000 of the 1.3 million jobs lost in the early stage of the pandemic have been restored.
Asked after his speech if he could estimate how many more jobs might be restored by Christmas, the Prime Minister declined, stressing that the strategies being announced today were creating jobs over a five-year time period rather than immediately.
"In this environment and [with] the uncertainties that exist today, I think making those sorts of punts would be could be misleading," he said of putting a figure on it.
Asked earlier whether the uncertainty of the pandemic meant budget predictions could be trusted, Mr Morrison said "we are living in the most uncertain of times", but he believed a gradual easing of restrictions across the country and the reopening of state borders would provide more certainty.
"We do not want to see a third wave in Victoria or a second wave anywhere else in the country," he said.
"So that's why getting it right and making sure the testing, tracing and the outbreak testing, tracing and the outbreak containment measures are totally up to the mark to ensure that it contains any outbreaks that may occur – and it wouldn't be surprising to see other cases occur as states and other cases occur as states and territories open up."
Melbourne and Sydney house values continued to slide through September but there are signs a shortage of homes on the market is supporting prices across the country.
CoreLogic on Thursday reported house values in Melbourne slipped by 0.9 per cent after a 1.4 per cent drop in August.
Through the past three months, house values in the nation's second-largest city have fallen by 3.7 per cent. So far this year they have dropped by 3.4 per cent.
It's a similar story for units in Melbourne. Values fell by 0.8 per cent in September to be 2.3 per cent lower over the past three months.
In Sydney, house values fell by 0.2 per cent last month after a 0.5 per cent drop in August. Over the past three months, Sydney house values have edged down by 1.7 per cent although so far this year they are still in positive territory, up by 1.5 per cent.
The US Food and Drug Administration has broadened its investigation of a serious illness in AstraZeneca's COVID-19 vaccine study and will look at data from earlier trials of similar vaccines developed by the same scientists, three sources familiar with the details told Reuters.
AstraZeneca's large, late-stage US trial has remained on hold since September 6, after a study participant in Britain fell ill with what was believed to be a rare spinal inflammatory disorder called transverse myelitis.
Australian regulators will be watching the progress of AstraZeneca's vaccine development closely given the government has brokered a deal for biotechnology giant CSL to make 30 million doses of the product in Melbourne if it works.
Labor has labelled the disclosure of the private email addresses of more than 200 stranded Australians an "unacceptable error", warning it places the group of vulnerable citizens at further risk.
Potentially hundreds of Australians stuck overseas have had their emails accidentally revealed to one another by the Department of Foreign Affairs and Trade.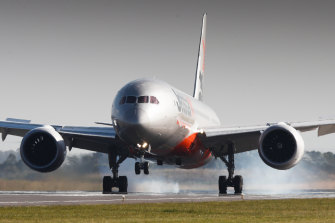 Labor's foreign affairs spokeswoman Penny Wong said the disclosure of private emails was "an unacceptable error placing this group of vulnerable Australians at further risk".
"But what is also unacceptable is what else the emails reveal: that stranded Australians must be destitute to get any assistance from the Morrison Government – and then that assistance will plunge them deeper into debt," she said.
South Australians will be allowed to drink a beer standing up and get down on the dance floor at weddings in new changes to the state's restrictions this weekend.
Premier Steven Marshall announced this morning that, from midnight Friday, private functions – such as weddings – will be allowed to host 150 people and include dance floors.
However, gatecrashers will not be allowed: the function must have a defined guest list and COVID marshalls must be employed by venues.
The state has also reversed rules introduced in August which banned standing drink service in pubs. The rules were brought in when cases from Victoria were found to have travelled to South Australia, prompting fears of a second wave.
The last instance of community transmission in South Australia was on March 20.
There is genomic sequencing investigation underway into whether nine different workers in the state's revamped hotel quarantine program contracted the virus within the hotel itself or not, Deputy Chief Health Officer Allen Cheng has confirmed.
Yesterday the Department of Health claimed that none of those people – which included five sub contractors from Spotless – were infected as a result of their work on the hotel quarantine program.
But Professor Cheng said today that genomic data that would prove that claim definitively was still being processed.
"We know that it's not part of one big outbreak because they're in different times and different places but I understand that the investigation is on-going," he said.
"I think there's still genomic data being processed."
The Victorian Premier isn't giving any weight to a new Roy Morgan poll we wrote about earlier in the blog today that showed there was now majority support from Victorians to lift a number of stage four restrictions immediately such as the five kilometre rule, the ban on visiting family and dining indoors at cafes and restaurants.
Across all three questions there was more support for lifting the restrictions now than two or three weeks ago, with the strongest reaction registered for the travel rule – with 61 per cent of Victorians now in favour of it's removal, up 11 percentage points from two weeks ago.
"I don't comment on polls, good or bad," Mr Andrews said.
While he acknowledged most people weren't enjoying lockdown measures, he maintained it was all still necessary.
"We can't pretend it isn't real," he said.
"You can't shortcut this, you can't sort of cheat your way to COVID-normal."