Loading
CBS News reported the commission was planning to cut off the microphones of Trump and Biden if they break the rules by failing to respect the time limits in future debates.
Biden said in a campaign stop on Wednesday that he hoped organisers would be able to turn off the microphone of the candidate who was not speaking.
"It was a national embarrassment," Biden said of the debate and Trump's performance.
"I am not going to speculate what happens at the second or third debate."
Trump, meanwhile, was critical of the debate's moderator, Fox News anchor Chris Wallace.
"Chris had a tough night," Trump posted on Twitter on Wednesday morning, calling the debate a "two on one" fight.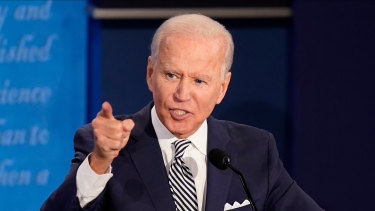 Trump said the debate was an "exciting evening".
"I see the ratings were very high and it was good to be there," he said.
Loading
Trump sought to clarify his response to a question about white supremacist groups, in particular the far-right Proud Boys.
"I don't know who the Proud Boys are, you'll have to give me a definition," Trump said.
"Whoever they are, they have to stand down, let law enforcement do their work."
The debate commission defended Wallace, thanking him "for the professionalism and skill he brought to last night's debate" and promising "additional tools to maintain order".
In an interview with The New York Times, Wallace said he was "sad with the way last night turned out".
"I never dreamt that it would go off the tracks the way it did," he said.
Ratings data showed that 64.7 million Americans tuned in to watch the debate. This was down from 84 million viewers from the first debate between Trump and Hillary Clinton in 2016 but on par with the ratings from previous election years.
Ratings held steady throughout the broadcast, suggesting viewers had not turned off their televisions en masse despite the hostile nature of the encounter.
The candidates for vice-president will debate next Wednesday, followed by two more presidential debates between Trump and Biden later in October.
In a post-debate focus group of undecided voters moderated by Republican pollster Frank Luntz, participants used words such as unhinged, arrogant, forceful, bully and chaotic to describe Trump.
The reviews of Biden were more positive, if hardly laudatory: voters described him as "better than expected", politician, compassion, coherent, and a "nice guy lacking vision".
Matthew Knott is North America correspondent for The Sydney Morning Herald and The Age.