Mr Luong told the commission he estimated the price based on the sale of another parcel of land close by, owned by property developer Ron Medich, whom he spent "a few months with" about that time.
Medich is serving a minimum 29-year sentence after he was found guilty of the 2009 murder of business rival Michael McGurk .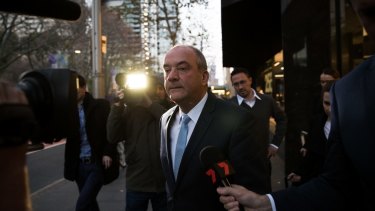 Medich is appealing against the decision, claiming there was an error in the admission of some evidence, in directions given by the trial judge, and three miscarriages of justice during the trial.
Mr Luong told the ICAC that, at the top end of the fee scale for assisting in the sale of the Waterhouse land, his company could earn between $6.9 and 9.9 million.
Mr Maguire, the former member for Wagga Wagga, introduced Mr Luong to Ms Waterhouse at a dinner at Chinatown's Marigold restaurant and would therefore be entitled to a 10 per cent "introductory fee".
At the time, the Waterhouse family was considering developing the land, but Mr Luong said he advised the family that it would be too costly and that selling "the whole lot" would be more lucrative.
Loading
He said the property owned by Medich was similar, but bigger and was bought for about $500 million.
"We were trying to sell based on that value [of the Medich property]. But I had been telling Louise, you can't get that because that land is better … your land is under flight path … your land isn't worth that much," Mr Luong said.
"The seller always has a dream. I don't think that land has been sold now. I think no one wants it."
Counsel assisting the commission Scott Robertson asked Mr Luong multiple times if he knew that Mr Maguire was doing a "whole lot of things … to grease the wheels" of the Smart West Sydney development.
"I knew, but I didn't ask him to," Mr Luong said.
Mr Robertson put it to Mr Luong that he could have been in a position to pay Mr Maguire around $1 million, "if a good sale price was achieved."
"I think so," Mr Luong said. "Subject to what I [would] get at the end of the day."
The ICAC is investigating whether Mr Maguire used his position as a member of Parliament for his own financial benefit and a company he silently directed, G8wayinternational Pty Ltd.
G8wayinternational claimed to offer an immigration service, business network and chaperoned travel, with influence and experience that "reaches to high levels of government."
On Wednesday the inquiry heard evidence from Ho Yuen Li, who was the president of business group Shenzhen Asia Pacific Commercial Development Association. Mr Maguire was honorary president.
Mr Li told the commission Mr Maguire offered to assist SAPCDA members in finding business opportunities in the south Pacific, including a proposal for a resort with a casino in Samoa.
Mr Li said he thought it was within Mr Maguire's "work scope" to promote such business.
The inquiry continues.
More to come
Lucy Cormack is a state political reporter with The
Sydney Morning Herald.