"It's great news for Melbourne," he said.
A spokesman for Myer said details about what the window display would look like and how it will be viewed under COVID-19 restrictions would be revealed in the next few weeks, while Mr Hanney confirmed the council would be in charge of enforcing social distancing measures.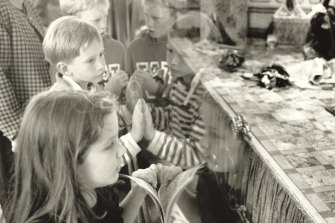 Mr Hanney said a "very, very Melbourne theme" for the windows was already locked in, but he did not give too much away.
The windows usually bring "tens of thousands" of people to the city each festive season, Mr Hanney said.
Loading
"The Christmas trading season is traditionally the most important time of year for city retailers, and the Christmas festival usually provides a $73 million economic boost for local businesses.
"This year's Christmas festival program will really focus on supporting the city's retail and hospitality businesses while providing a uniquely Melbourne Christmas atmosphere and experience.
"We're looking at ways to bring people back into the city to see decorations, light installations, enjoy festive music and other experiences to encourage Melburnians to spend in our stores and hospitality venues."
The chief executive of the Australian Retailers Association Paul Zahra, who has been working with the council on plans for the CBD post-lockdown, welcomed the news that the "family ritual" of the windows was going ahead.
But he also urged the state government to allow an earlier return of in-store trading.
"We believe we can still have a robust, yet COVID-safe shopping season in Melbourne, and have been advocating to the state government for an earlier end to the retail restrictions, one that allows for a more progressive, smoother and safer re-opening of the CBD," he said.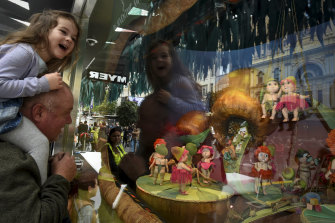 Premier Daniel Andrews has previously said he wants this Christmas to be "as close to normal as possible", despite Melbourne's second coronavirus wave.
"I want all of us to stay the course so that we can all have something approaching a normal Christmas," he said last month.
Meanwhile, Melbourne City Council announced the locations of 16 "outdoor dining precincts" on Thursday.
Melbourne eateries can now apply for a permit to set up tables and chairs on footpaths, street side car parks and laneways across the city.
Rachael Dexter is a breaking news reporter at The Age.