"I think the criticism is a bit lazy, personally.
"We consistently come up with reasons that we think are more valid than any of those [from critics].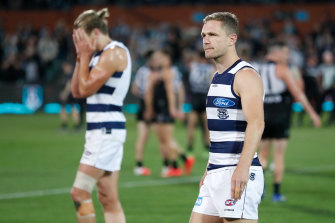 "You're playing the best teams at the end of the year in high-pressure situations.
"Bar Richmond, not many teams have good finals records."
Loading
Scott felt his side took it to minor premier Port all evening at Adelaide Oval, only to self-sabotage through errant conversion.
The inside-50 count finished all-square – 41-apiece – but the Power better capitalised on their opportunities in front of goal compared to the wayward Cats, who had more scoring shots (17-13).
"The big outlier in the metrics was the conversion," Scott said. "They took their gettable chances and we missed ours.
"But we're not far off the pace … we've got the capacity to play better. I've got a lot of confidence in the resilience and capacity of our players.
Loading
The biggest culprit in Geelong's goal-kicking woes was gun spearhead Tom Hawkins, who finished with 0.5 and a no-score from his six set shots.
The Coleman medallist marked strongly against Trent McKenzie but his finishing was a mixed bag of posters, miscues from tough angles and bungled play-on snaps.
"One late hit the post … he's a pretty good exponent of those snaps," Scott said. "He took more marks inside-50 than Port combined.
"That [accuracy] part of his game was off but I thought he looked a threat when we gave him half a chance."
Port coach Ken Hinkley, who turned 54 on Wednesday, praised his side's ability to outmuscle the Cats after half-time.
"We've been prepared to play it tough, hard and brutal at times to get to the line," said Hinkley, leading the Power into their first preliminary final since 2014. "It takes a bit of nerve."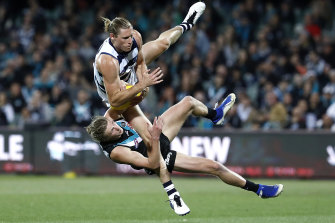 Epitomising the Power's third-term valour was Xavier Duursma, who took one for the team in a stunning act of mid-air bravery early in the third quarter.
Running with the flight of the footy, Duursma (186cm, 73kg) collided with big Cat Mark Blicavs (198cm, 100kg) in a brutal aerial contest.
Loading
Duursma was down for some time before eventually being helped from the ground to applause from fans. His night was finished but his selfless courage lifted Port, who swamped Geelong in that pivotal third period.
Hinkley doesn't believe Duursma is in doubt for the preliminary final in a fortnight's time.
"He's just a courageous kid," Hinkley said. "If you go through his highlights, you'll see him doing that many times.
"Unfortunately [on Thursday] he got hurt with the force of the landing, but he's pretty good.
"I can tell you one thing, the next game he plays, he'll put himself in exactly the same spot because that's just who he is."