The single-storey timber home was built about 1882 for pastoralist Henry William Coxen, who lived between 1823 and 1915.
Mr Coxen at one stage owned or co-owned 17 grazing leases near Jondaryan and his time as a pastoralist included several clashes with First Australians as graziers first moved into the Darling Downs.
Records obtained by the Queensland Heritage Council revealed an £810 quote to build The Fort with 15 rooms, verandahs, stables, a stockyard, a laundry, a number of outbuildings and a two-acre (0.8 hectare) garden.
In 1906, the Telegraph described the home as having "one of the most beautiful views around Brisbane".
Queensland Heritage Council chair Debbie Best said Mr Coxen's home was chosen because it was well outside the Brisbane city of the time and the design accentuated the view of the river towards Mt Coot-tha and Fig Tree Pocket.
"While 1880s houses are not rare or endangered, The Fort deserves its state heritage-listed status for other important reasons," Ms Best said.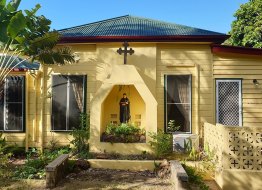 "In particular, The Fort shows the common trend at the time for affluent Queenslanders to build substantial estates away from the city on Brisbane's periphery, on high grounds overlooking the Brisbane River," she said.
"In this case, Mr Coxen built his home on a bluff above the river, creating a striking aesthetic through the relationship between the house and its sweeping river vista and views to Fig Tree Pocket, Mt Coot-tha and the burgeoning city in the distance," Ms Best said.
Mr Coxen arrived from Surrey in England and, after spending time in Tasmania and NSW, bought the land in 1865 in partnership with William Sim, for £59 15s.
He became its sole owner in 1866.
The final designs for The Fort were checked and noted by Queensland's Colonial Architect Francis Stanley.
Mr Stanley was responsible for several of Queensland's public buildings, including Brisbane's General Post Office, the original Roma Street Railway Station and the Queensland Club.
Mr Coxen was a prominent Freemason and became chairman of the Sherwood Divisional Board in 1902, Ms Best said.
"The Fort was sold to the Corkran family in 1906, and then to the Passionist Order of the Catholic Church in 1955," she said.
"At this stage it became the Order's only Queensland monastery, known as the Regina Caeli Retreat, and later the St Mary's Retreat."
The building is still used by the Order as a base for community outreach and for Sunday religious services.
The Fort was nominated for the Queensland Heritage Register by a person from the local community, Ms Best said.
The Queensland Heritage Council entered The Fort into the register on September 25.
Tony Moore is a senior reporter at the Brisbane Times
Most Viewed in Environment
Loading