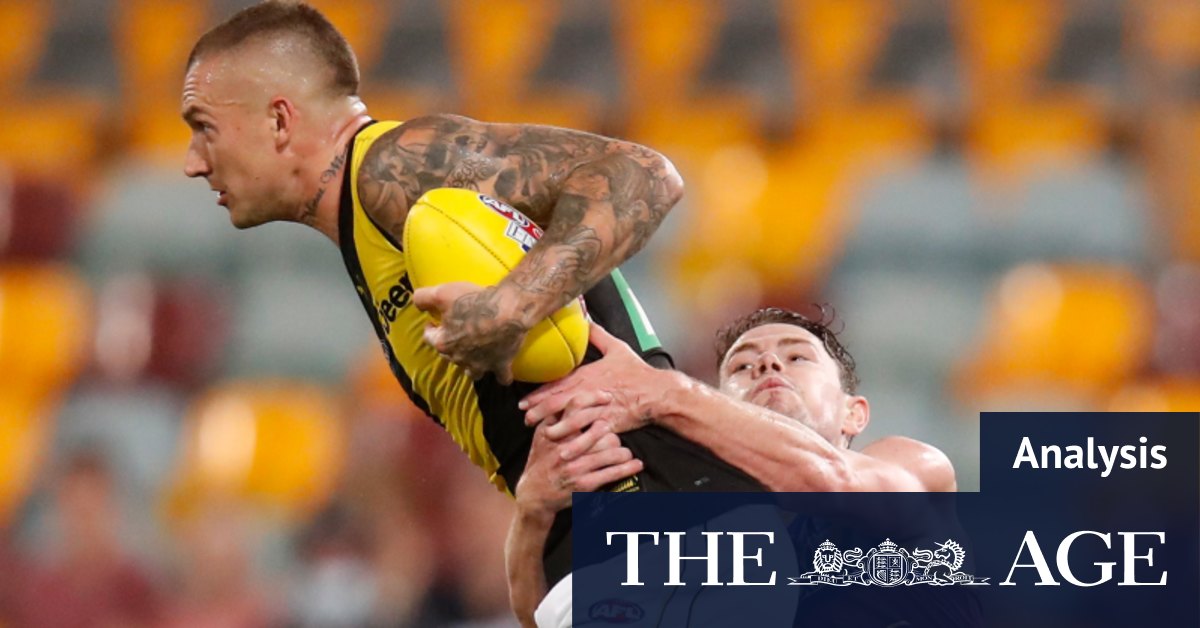 From a Tiger perspective, there was another player whose absence, rather than presence was telling to the outcome: Tom Lynch. Without him, the Tigers found it so hard to penetrate Brisbane's defence, where Harris Andrews was able to take liberties that Lynch mightn't have permitted.
In the opening term and right up until mid-way through the second quarter, Dusty was rampant. In the corresponding final here last year, Martin had been subdued in the midfield before he was stationed forward, where he demolished the hapless, inefficient Lions with six goals.
This time, Dusty's influence was most pronounced closer to the midfield, where he had three clearances in the first term. For the period of Richmond's early advantage, he was in Martin-finals mode. He found Jack Riewoldt for an early settling goal with a trademark well-weighted pass. He cut through the Lions as though they were standing still.
He created a goal for Jason Castagna in the second quarter that regained the lead, taking advantage of an advantage paid to find his team mate. Martin defines Richmond in this way too: He does not hesitate, he moves it on. The difference between he and nearly all other Tigers, is that he finds team mates – or scoring opportunities – not mere yardage.
Neale, meanwhile, had an embarrassing beginning to this final, not having a single disposal in the first term, as he found himself manned by a hell of a player at stoppages: Trent Cotchin.
But Neale, as with Dayne Zorko, Hugh McCluggage and Jarryd Lyons, was never going to be subdued for the match's duration.
In that decisive second quarter, when the Lions defended and then wrested the momentum, Neale began to win the footy and had perhaps the match's most fateful moment. Showing the kind of ill-discipline that had hitherto only happened in the hub, the Tigers gave up a pair of 50m penalties – one against Shai Bolton, the other v Marlion Pickett – handing Neale a shot from 55 metres with 20 seconds left.
That Neale nailed the shot confirmed the trajectory of the match, which had been re-shaped first by defending, by Cameron's three blinding goals (two in the second quarter), and then by becoming impenetrable again.
Loading
Neale surged, Martin faded. Neale, the less potent player, went from zero to finish with 19 disposals – modest by his standards, but sufficient in a dog fight final.
Dusty, so often the weapon that finishes teams off, couldn't summon those knock out disposals or goals and Chris Fagan later said he felt the Lions had not needed to put the clamps on him. Only once before over four years had he been more subdued in a final: against Collingwood in 2018, the Tigers' sole defeat in a final since 2017.
The Lions almost undid themselves late by a combination of conservatism and blown easy chances to McCluggage and Berry, as the Tigers closed to within eight points with sufficient time for a steal.
But, in a season of challenges and setbacks, the Richmond Football Club was undone, not by their own mistakes, or misdeeds, but by a team that hunted and stymied them, as they have stymied others.
It would be unwise to say that this was end of the road for Richmond, which will have to win next week and then face a formidable foe in the preliminary final, Port, at their fortress.
But they'll have to be a team for the ages to win the flag from here.
Jake Niall is a Walkley award-winning sports journalist and chief AFL writer for The Age.