Nonetheless, McEnany referred to the President's KKK pledge when asked if Trump denounces white supremacism and groups that espouse it.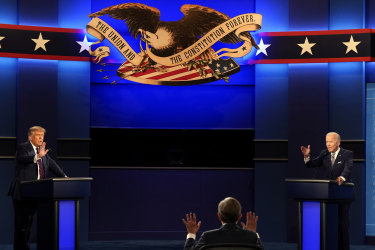 "This has been answered, yesterday by the President himself, (and) the day before by the President himself on the debate stage," she said.
"This President had advocated for the death penalty for a white supremacist, the first federal execution in 17 years. His record on this is unmistakable, and it's shameful that the media refuses to cover it."
With 32 days until the election, both Trump and Biden are campaigning hard to woo black voters, particularly in battleground states such as Wisconsin, Michigan and Pennsylvania.
A few days before the debate, the President released a so-called "Platinum Plan" at a Black Voters for Trump event, which promises to "increase access to capital in black communities by $US500 billion" over four years.
The policy contains broad brush commitments such as giving African Americans greater educational choice by empowering them "to close failing schools"; "creating 500,000 new black owned business" and giving "black churches the ability to compete for federal resources for their community."
Juneteenth, the June 19 celebration of the emancipation of slaves in the US, would also become a national public holiday under the plan.
But as the election tightens, Wednesday's debate set off a firestorm, not only because of Trump's interjections, but also because of his comments about right wing extremist group the Proud Boys.
Loading
Asked by moderator Chris Wallace if he was "willing tonight to condemn white supremacist and militia groups and to say that they need to stand down and not add to the violence in a number of these cities as we saw in Kenosha and we've seen in Portland?" Trump said he was "willing to do that," but added: "almost everything I see is from the left-wing."
Biden then referenced the Proud Boys, to which Trump responded: "The Proud Boys. Stand back and stand by."
Yesterday, the president's political allies suggested he misspoke and Trump also claimed he didn't know who the Proud Boys were.
However, the group's leader, Enrique Tarrio is also the head of the grassroots supporter group Latinos for Trump (which is separate to the formal Trump campaign movement of the same name).
After the debate, people associated with the Proud Boys celebrated the shout-out online, and merchandise with the group's insignia, along with the words "stand back" and "stand by" began appearing on Amazon and other online retail outlets.
Farrah Tomazin is a senior journalist covering the 2020 US presidential election.