"I have never had a player or any staff member talk to me about it in any shape or form.
"They are allegations. When we get all the facts together and see this at the end of the day, we will take another position on it and make another statement.
"Right now, I'm not going to respond to allegations, I'm sure the club aren't and the NRL aren't.
"I will keep my powder dry because you might be wrong."
According to The Australian, McDonald treated Burgess with a tranquiliser to calm him during a drug-fuelled episode, but wrote the prescription in somebody else's name. It was also alleged that another doctor arranged blood tests for Burgess under a different name, with that test then alleged to have returned positive signs of a number of recreational drugs including MDMA.
Bennett said McDonald would continue his duties with the team on Sunday.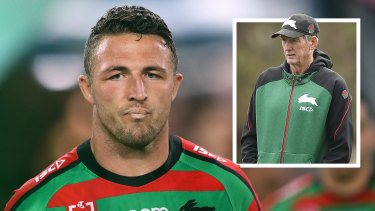 "The team doctor is one of the most honest people I've ever met and worked with," Bennett said. "He's been here for 25 years. Anyone who knows the team doctor knows his ethics and he does a great job here. I wouldn't be jumping the gun about what the club doctor has done or hasn't done.
"He will be with the team tomorrow. He wasn't here this morning because he doesn't come in on Saturdays. He will be with the team tomorrow and there's no reason why he shouldn't."
Loading
Asked about Burgess' alleged drug issues, Bennett said: "That's the first I've ever known of him taking drugs.
"I've never heard a rumour around the club about Sam Burgess taking drugs."
The dramas threaten to derail the Rabbitohs' finals campaign just a week after a record 60-8 win over arch rivals and premiers the Roosters. However, Bennett said the Burgess revelations would have "no impact" on the performance against the Knights.
"It will not affect the team in any shape, form or manner," Bennett said. "You have to understand that, no matter how much it may excite you to think it may affect us.
"I can tell you categorically that it will not affect us, it has not affected us.
"Sam is an important part around us, a great bloke. The bottom line is there isn't a big impact on us in any shape or form."
Bennett brushed off suggestions he knew, or should have known, about the Burgess allegations.
Loading
"Listen to what I'm saying, will you – I don't know of any allegations against Sam Burgess at all before the last 24 to 48 hours.
"I haven't been privy to any conversation with him or anybody else. I don't know what the club's position with that is. I don't know what text messages they may have got or emails from somebody else, it's never been discussed.
"It hasn't been an issue, nobody has brought it up with me. You're talking to the wrong guy here if you're trying to get information."
Sport newsletter
Sports news, results and expert commentary delivered straight to your inbox each weekday. Sign up here.
Adrian Proszenko is the Chief Rugby League Reporter for the Sydney Morning Herald.