Concerns were first raised about 6pm on Friday when water appeared to come up through the ground on two nearby properties. By 1.30am on Saturday, emergency crews had woken more than 100 residents across 41 homes and asked them to leave immediately.
Ten CFA trunks were involved in pumping water out of the dam to reduce the pressure on the compromised wall. More than 100 emergency services workers were on site, including dam engineers trying to decipher the scope of the damage.
After staying up late to feed her seven-month-old baby, Alice O'Rourke got a knock on the door from the SES at 2am, who said she and her young family of four should leave.
"At first, it was more just a shock that someone was knocking on the door at that time of the morning. I was worried someone was trying to break in," she said.
"We didn't know how serious it was, but when they said evacuate, we made the choice to leave straight away.
"We had no idea the dam could be dangerous. We quite often go for walks near there. I think everyone is just a bit shocked and not sure what's going to happen."
Ms O'Rourke was advised on Saturday morning not to return to her home.
SES south-west regional officer Ian Carlton said an initial trickle of water could have turned into a torrent.
"Initially it was only a trickle of water, but the dam where it was all coming from was the concern. Engineers did assessments on the consequences of a catastrophic failure, and it would have affected three blocks of houses," he said.
"Some larger pumps have arrived [Saturday] morning. They're going to be drawing water and trying to get it down to 80 megalitres. We'll be lowering the level down to an acceptable level to try to minimise the risk.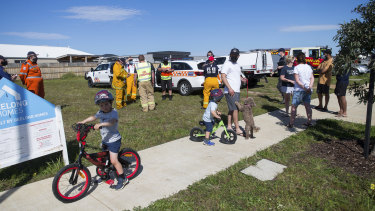 "It's not an everyday occurrence, and when we've seen footage from overseas of dam failures, it's not something to be taken lightly."
Mr Carlton said affected residents were prepared for the early-morning evacuation after hours of evening work by SES and CFA crews.
Residents will not be able to return to their homes until at least Sunday.
SES media spokeswoman Chloe Jeffers said with the weaknesses in the dam wall, emergency services were in a race against time to avoid "potential catastrophic failure".
"Our new flood preparedness plan tells people to 'bag it, lock it, lift it and leave'. That was the advice we were giving residents last night," she said.
Ashleigh McMillan is a breaking news reporter at The Age. Got a story? Email me at a.mcmillan@theage.com.au