If it is going to happen, it will happen in the next four weeks. At the start of every October, investors and traders can be forgiven for already feeling a little uneasy. Traditionally, it is the month for a stockmarket collapse. With valuations already sky-high, a contested election looming, key vaccine data on a knife-edge, and with the virus resurgent around the world, there were already plenty of reasons to feel nervous.
Now, with President Trump testing positive for COVID-19, it promises to be a wild ride.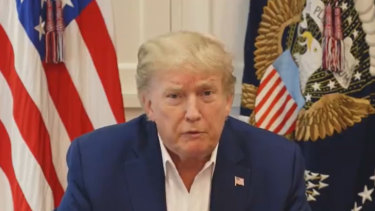 In truth, however, Trump's positive test won't be the trigger for a full-scale collapse. If he suffers mild symptoms, it won't make much difference either way. If he goes into intensive care, then either the more moderate vice-president Mike Pence steps in, or else Joe Biden wins, with an expansionary fiscal programme, while the civil unrest a Trump second term might spark will be avoided.
Either way, the markets and the economy won't move dramatically in either direction. There was a strong rally in equities after Trump was elected, but neither his illness, nor his re-election or defeat, will have anything like the same impact.
Telegraph, London
Prime Minister Scott Morrison will have to win the next two elections before he can deliver a budget surplus.
Treasurer Josh Frydenberg will unveil on Tuesday the depth of the permanent damage to the nation's finances caused by the coronavirus recession.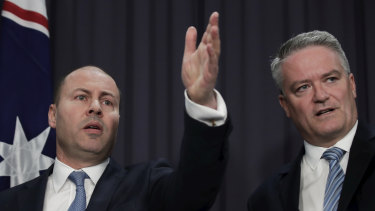 Mr Frydenberg is not expected to forecast a surplus over the forward estimates in the budget, effectively confirming growing debt until at least 2024-25.
A deficit of up to $220 billion — a record budget shortfall — is expected to be unveiled for the current financial year but Mr Frydenberg will also have to reveal what he and Treasury expect about the budget longer term.
In the July budget update, the government failed to offer any new forecasts for the years beyond 2020-21. The last projections for 2021-22 and beyond were made in the December mid-year update which showed successive surpluses.
They will now be wiped, with some economists tipping deficits of around $100 billion next financial year, and the two years beyond that. The next federal election is due to be held in 2021-22, restricting the scope of promises from both the Coalition and the Labor Party.
The wider sharemarket is enjoying a strong day but tech stocks are underperforming.
The ASX is ahead 2.4 per cent, while the tech sector is up by just 0.7 per cent, following a muted performance by the NASDAQ in Wall Street's Friday session.
US tech giants tumbled in Friday's session after President Trump's positive coronavirus diagnosis.
Apple dropped 3.2 per cent, Amazon and Microsoft 3 per cent, Facebook 2.5 per cent, Alphabet 2.2 per cent. Tesla took a 7.4 per cent dive.
The heaviest tech weight in local trade was buy now, pay later firm Afterpay, which fell 0.5 per cent to $79.32.
TechnologyOne fell 0.3 per cent, and Megaport was down 2.1 per cent.
It wasn't all doom and gloom. Xero hit a new intraday record high of $104.98 and was still 1.3 per cent higher at $104.58 at 2pm.
Computershare was up 2.5 per cent at $12.52, and Link Admi Holdings was 3.1 per cent higher at $3.86.
Gold miners are also subdued on Monday.
Precious metals prices have edged lower amid reports President Trump could be released from hospital as early as Monday, though concerns over his health remain.
Gold miner Newcrest Mining is down 0.2 per cent at $31.23 and Evolution Mining is down 0.1 per cent at $5.83.
The latest edition of a little markets podcast produced by us in conjunction with IG Markets is now available.
This week Kyle Rodda and I discuss how markets are likely to react to any news coming out of the United States regarding President Trump's health. And could this be the Budget that restarts a nation? We also chat about Tuesday's budget, which is already providing a big boost to Australia's financials-heavy stock market today. And would the RBA really drop interest rates to nearly zero?
The federal government is expected to release a big-spending Budget tomorrow evening and the entire financial sector is surging on expectations consumers will have more money in their pockets.
Among the big four banks, Westpac is up 4 per cent to $17.24, Commonwealth Bank is up 2.8 per cent to $65.50, National Australia Bank is up 3.6 per cent to $18.11, and ANZ is up 3.8 per cent to $17.73.
Smaller banks are also higher – Bank of Queensland is up 5.2 per cent to $5.91 and Bendigo & Adelaide Bank is up 4.7 per cent to $6.28.
Market commentator Elio D'Amato said tomorrow's expected stimulus measures are great for the banking sector.
"This is a budget that is likely to support asset values very strongly," he said.
"Further to that, there is expected to be a lot of stimulus. Banks are the direct beneficiaries of a strengthening economy because if there is money going into the economy it is going to be touched by them [the banks] about seven times over."
Australian power giant Origin Energy has scrapped a resolution asking shareholders to grant chief executive Frank Calabria restricted share rights at the company's upcoming annual investor meeting.
Origin's board proposed the change as part of a remuneration shake-up after a review found the existing long-term bonus structure was not achieving its key objectives of attracting and retaining executive talent, and aligning executives' interests with those of shareholders.
However, chairman Gordon Cairns and the board decided to withdraw the resolution after learning of dissatisfaction among investors and prominent proxy advisory firms including ISS, which recommended voting the resolution down.
"Following extensive engagement with investors and other stakeholders over recent weeks, the board recognises there remain some shareholder reservations about the proposed introduction of a restricted share plan with longer deferral provisions," said Mr Cairns, who is due to retire as chairman at Origin's October 20 investor meeting.
Instead, he said, the board would modify the company's existing long-term incentive plan, including reducing the maximum achievable bonus from 180 per cent to 120 per cent of fixed pay.
"We believe this strikes a sensible balance between the conventional external hurdle approach and the incorporation of new arrangements which the board firmly believes is right for our business and for the future," he said.
Origin Energy shares are up 3.5 per cent, or 15¢, to $4.41 today. The energy sector is the strongest performer today, up 4.5 per cent compared to a 2.3 per cent rise in the broader ASX200.
The board of the company behind Radio Rentals, Thorn Group, is going through a rocky period with agitator shareholders attempting to clear out three board members and install their own directors.
On 2 September, the company received a request for a shareholder meeting to remove non-executive director Allan Sullivan, non-executive interim chairman Warren McLeland, and non-executive director Kent Bird from the board.
The shareholders wanted to install Vasilios Piperoglou and Ronald Hozer instead. Mr Piperoglou is an executive at Collins Street Asset Management, which has a 5.8 per cent stake in Thorn Group.
According to an ASX substantial holder notice, shareholders Vanward Investments, Warwick Sauer, Permanent Capital, Ace Property Holdings, Narlack, Vaspip, and Collins Street Asset Management are acting together to change Thorn Group's board.
On 16 September Thorn Group rejected the request for a shareholder meeting, saying the request was invalid.
Today Mr Bird confirmed he had resigned last week on Friday, 2 October. He was appointed just one year ago and has been Thorn Group's deputy chair and headed up the remuneration and nomination committee.
Shares in Thorn Group last traded at 21.5c.
The Australian sharemarket is still well ahead in early afternoon trade as the financial and energy sectors continue to outperform in a low-volume day.
The ASX 200 was ahead 2.2 per cent at 1pm and earlier hit a high of 5932.6 – adding $42 billion in the process – as NSW and a number of other states enjoy a public holiday.
School holidays could also be keeping activity low while Chinese markets are also on a break.
All local sectors were ahead at 1pm with the market heavyweights all in the black.
Commonwealth Bank rose 2.9 per cent, Westpac 4 per cent, NAB 3.4 per cent, and ANZ 4 per cent in a booming day for the financial sector.
Rio Tinto rose 2.2 per cent, BHP 2.4 per cent, and Fortescue Metals 2.6 per cent to offset a weaker performance by the gold miners.
Oil prices are on the recovery and have lifted energy stocks by a collective 4.3 per cent.
Investors are grappling with a looming Federal Budget / RBA double-header on Tuesday, as well as the health of US President Donald Trump.
The President tested positive to the coronavirus on Friday, sending shock waves through equity markets.
AxiCorp Global Markets Strategist Stephen Innes said the President's health situation may increase the likelihood of a contested US election result and all the adverse knock-on effects in times of uncertainty and heightened volatility after polling day.
"In essence: As long as President Trump is still fighting Covid-19, everything else is of secondary importance," Mr Innes wrote.
"Traders could fumble in the dark between opinion polls, Trump's health updates, and the next series of debates where the square-off between VP Pence and Biden's running mate Kamala Harris could take on an added level of importance."
US futures were last up 0.7 per cent or 1 per cent for the Nasdaq index.
Shares in Bernie Brooke's struggling toy wholesaler Funtastic have been voluntarily suspended as investors await more news on an acquisition first flagged in media reports last week. Shares last traded at 6.5¢, up from 1¢ in March.
Funtastic on Monday requested its shares be suspended ahead of an announcement on a proposed acquisition, though it gave no further details.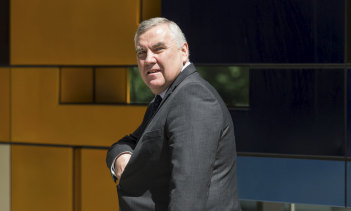 The company's shares were halted on Friday at 6.5 cents following an article in the Australian Financial Review which claimed Funtastic was merging with toy retailer Hobby Warehouse, which owns the licensing rights for Toys'R'Us in Australia.
Funtastic on Friday said it was progressing well with talks over a potential merger, however, no agreement had been entered into and there would be "no guarantee" that a deal would go ahead.
The shares will remain suspended until Monday next week or until an announcement is made on the acquisition.
The retailer recently reported a $9.2 million loss for the 2020 financial year and is currently having its full-year accounts audited to assess if the business is able to continue as a going concern. It has a market capitalisation of $15.6 million and the biggest shareholder is Jaszac Investments with 18 per cent of shares, an entity controlled by Jason Sourasis.
There is a rush to list companies on the ASX at the moment with 11 companies slated for October and just two in November. After drying up during March and April the initial public offering (IPO) pipeline is flowing again.
On Tuesday this week Siren Gold is hoping to raise $10 million with an IPO price of 25c, with broking house Morgans handling the float. Then follows three or four companies each week until the end of October.
Managing director of Market Eye, Ronn Bechler, says there has been a "noticeable pick up in the last month or so" for IPOs, but said it is not an "anything goes" environment with technology, efficiency, and health care companies best received by investors.
"I think November looks more challenging for IPOs and that is why you have this rush in October," he added. The US Presidential election will be held in early November.
Among the bigger floats currently scheduled is local broadband retailer Aussie Broadband for $1 apiece, looking to raise $40 million next week. The following week face mask respiratory maker CleanSpace Technologies is looking to raise $131.4 million selling stock at $4.41 each.
Later in October e-commerce retailer My Deal is looking to raise $40 million at $1 per share.