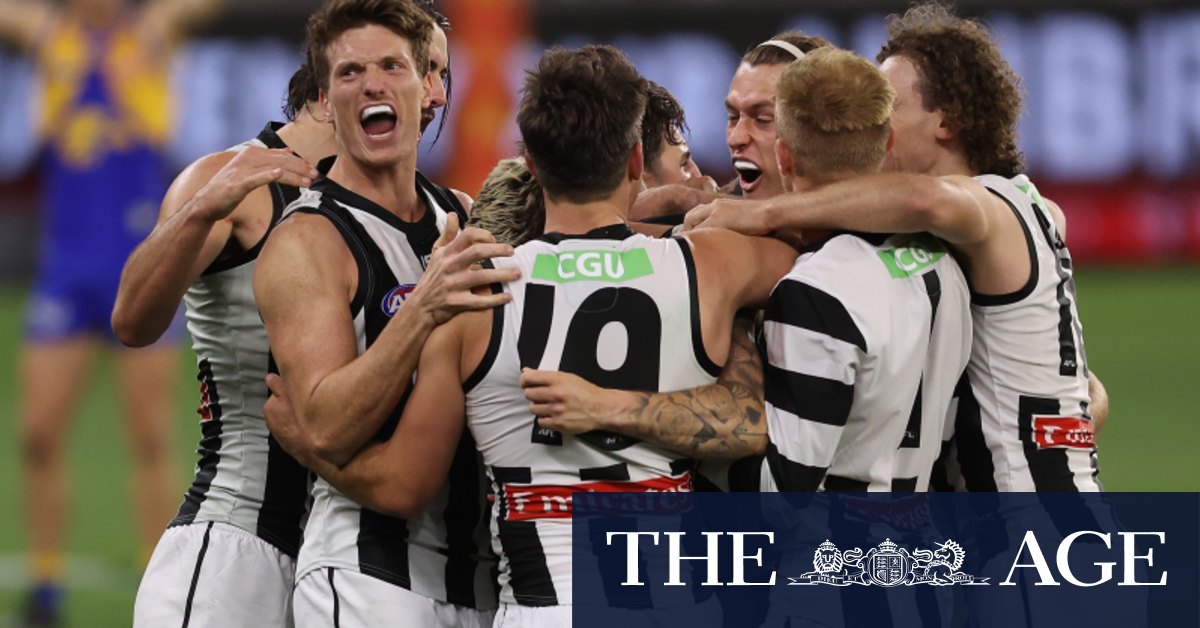 Then, heading into their one-point elimination final win over West Coast they had to deal with seven days' quarantine in a hotel. Skipper Scott Pendlebury on Sunday joked they had "been living in each other's pockets", as opposed to the comforts of their Queensland hub.
Some staff stayed in camper vans.
A parochial West Australian press dubbed them the "Dirty Pies" – a term also used by Eagles coach Adam Simpson in a radio interview – because West Coast now have to quarantine for two weeks after losing to them.
The "dirty" tag refers to the fact that the Pies only quarantined in WA for seven days before the game, while the Eagles did so for 14 days because of the pre-finals bye.
Loading
Kane Cornes then chimed in, saying the Pies were "making up the numbers".
The Pies rejected any sense of injustice at every opportunity this year.
But when Mason Cox raised his finger to his lips to silence the Eagles crowd after kicking one of his three goals on Saturday, it was clear the 'Pies had been at least sub-consciously motivated by their circumstances.
"Momma always said. 'If ya ain't got anything nice to say, don't say anything at all.'#dirtypies #makingupnumbers" Cox tweeted on Sunday morning.
Jeremy Howe, injured early in the season and on the sidelines, tweeted post game: "Try that on for size, Kane".
Loading
Pendlebury said immediately after the game on the Channel Seven broadcast: "We're classified as dirty over here, and the crowd let us know."
On Sunday on ABC he said that"we were just making up the numbers apparently", going onto say it was one of the best wins he's been involved in because of: "Some of the circumstances we have had to go through to even get to the game."
The Pies head into Saturday's semi-final against the Cats having won the last two matches against Geelong, one of which was the 2019 qualifying final.
Anthony is a sports reporter at The Age.