Research on cures for heart disease, stroke, cancer, brain injury and motor neurone disease are being paused or cancelled, and key researchers are losing their jobs, as the university revenue crunch starts to bite into science.
Scientists say the damage being done is likely to put a long-term dent in Australia's research capacity, right as the nation's researchers deal with threats ranging from the coronavirus pandemic to the climate crisis.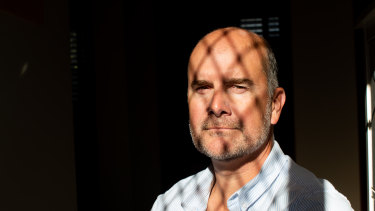 The pandemic has blown a $3 billion to $4.6 billion hole in the nation's university budgets due to the loss of international students. Student fees pay for most of university research. That revenue shortfall has led universities to announce swinging cuts; between 17,000 and 21,000 jobs are expected to be lost, about 10 per cent of the full-time workforce.
So far, no public university has qualified for JobKeeper.
"I feel betrayed," said Professor Grant Drummond, head of La Trobe University's department of physiology, anatomy and microbiology.
The Department of Health and Human Services has added three possible cases of community transmission to its list.
Victoria recorded 12 new cases and one death, a man in his 80s, for Sunday with six of the cases still under investigation.
Six of the new cases were linked to known outbreaks or complex cases with three connected to the Butcher Club-Chadstone Shopping Centre outbreak and three were linked to the Electra Park Medical Centre in Ashwood.
Four of the new cases are in Monash with single cases in Boroondara, Glen Eira, Greater Dandenong, Melton, Whitehorse, Wyndham, Yarra Ranges and Mitchell Shire.
The death was linked to an aged care facility, 806 Victorians have died from COVID-19 during the pandemic.
Metro Melbourne's 14-day rolling average is 11.9 while regional Victoria is on 0.2
Victoria has had 4274 cases which may indicate community transmission with three cases added on Sunday.
The state still has 241 active cases with 31 people in hospital and three in intensive care.
There is one active case in residential disability accommodation.
Active aged care outbreaks:
Estia Aged Care Facility Keilor (29 active, total cases 47)
Edenvale Manor Aged Care Facility Keilor East (12 active, total cases 23)
Opal Hobsons Bay Aged Care Facility Altona North (11 active, total cases 46)
Embracia Moonee Valley Aged Care Facility (10 active, total cases 80)
Baptcare Wyndham Lodge Community Werribee (7 active, total cases 260)
Doutta Galla Aged Services Woornack (five active, total cases 60)
Mercy Place Parkville (two active, total cases 104)
Baptcare Brookview Community Westmeadows (two active, total cases 21)
Active non-aged care outbreaks:
The Butcher Club-Chadstone (20 active cases, 20 total)
Springvale share accommodation (six active cases, eight total)
Electra Park Medical Centre Ashwood (six active cases, six total)
Alfred Hospital (four active, 12 total)
Casey community (three active, 45 total)
Western Health Sunshine (three active, three total)
The Victorian Department of Health and Human Services have updated their list of high-risk locations.
They have added the following locations at certain dates and times.
The new locations are:
Odd Fellows Cafe, Kilmore (September 30, 7am-10am)
Sunbury, Craigieburn and Upfield lines (embarked train at Broadmeadows, disembarked at North Melbourne then switched trains to St Albans) on September 29 from 1pm to 3pm.
The same person was also on the 419 Bus from St Albans Station to their workplace on September 29 at some point between 1pm and 3pm.
Tennis' two biggest stars, Roger Federer and Serena Williams, have committed to next year's Australian Open, which will be played in front of crowds of up to 50 per cent capacity.
Tennis Australia chief executive Craig Tiley confirmed crowds of between 25 and 50 per cent of those who had attended in past years would be able to attend the Australian Open in January, and there would be more tennis and more events than ever before in this upcoming summer.
More than 800,000 attended this year's two-week tournament, while Rod Laver Arena has a capacity of just under 15,000.
Players will be required to complete two weeks' quarantine in a bubble, similar to what AFL players from Melbourne have endured in Queensland, in which they'll be able to train before a six-week carnival of tennis.
"We've been talking to them [the players] every single week," Tiley told Nine's Wide World Of Sports.
"We're going to have six weeks of tennis. In fact, we'll have more tennis, more events than we've ever had before."
Eight out of the 10 Australian districts projected to experience the biggest increases in poverty following cuts to the JobKeeper and JobSeeker payments are in Sydney's west.
New modelling shows every region of the city will record an increased rate of poverty in October compared with before the pandemic as the Morrison government winds back income support schemes introduced at the onset of the crisis.
Poverty rates in Fairfield are forecast to rise 10.7 per cent between June and October this year, while Merrylands-Guildford is expected to record a 10.4 per cent jump and Bringelly-Green Valley a 10.3 per cent increase.
Bankstown, Auburn, Mount Druitt, Liverpool and Canterbury are also expected to record increases in their poverty rates of up to 9.6 per cent between June and October.
The analysis by the Australian National University's centre for social research and methods shows Sydney's north and east will experience the smallest increases in poverty as income support payments are reduced, with Ku-ring-gai, North Sydney and Mosman, the inner city and Manly all recording an increase of about 2 per cent – compared with 9.4 per cent in Auburn.
The baby was breech, feet where the head should be. About-to-be parents Laura and James had planned for a caesarean birth, along with so many other families. They imagined the first few days and weeks, surrounded by family and friends, sharing happiness.
Laura Aubusson was in her surgical gown, being wheeled into theatre, James at her side, talking about who would visit first. This was the very first grandchild on Laura's side of the family and the excitement level was sky-high. James' parents were up to number eight but still very keen to greet the new baby. Then the midwife interrupted.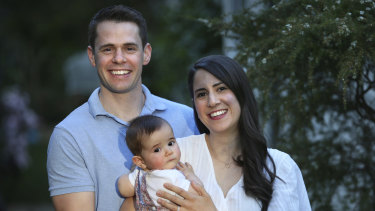 "There are no visitors allowed, no visitors as of 5pm yesterday," she said.
Laura could feel herself starting to cry but held back the tears. This was way beyond her birth plan or anyone else's. Harper was born on day one of hospital lockdown at The Sanitarium on Sydney's north shore.
Economists predict this will be the last big generation of babies for years to come – the babies born during the plague, the boom before the bust. New modelling for the government reveals fertility will drop to a low of 1.59 this financial year. If ever there was a generation born into unexpected times, the 2020 babies are it. But plague babies might not be the best description for these darlings. They were born during the pandemic but for some families, the challenges of COVID-19 came with as many benefits.
Washington: President Donald Trump's campaign is running out of money, running out of people and running out of time.
One month from election day, Trump's family, his campaign manager, the head of the Republican National Committee and the President himself have been taken off the field by the pandemic that had already wiped away his competitive edge in the race.
Trump had been trailing in the polls of every battleground state. But with millions of Americans starting to vote, and with mere weeks left to close the gap with his Democratic rival, former vice-president Joe Biden, Trump's campaign is now even further hobbled by a limited bench of surrogates, with senior officials out of commission and the top of the ticket hospitalised.
As the President was preparing to leave for Walter Reed Medical Centre on Friday, hours after testing positive for COVID-19, the Republican party sent out thin talking points to top allies about his condition. But the document focused primarily on the economy, the first presidential debate in Ohio earlier in the week and the Supreme Court nomination.
Los Angeles Times
Queensland's recovery from the COVID-19 pandemic continues, with no new cases of coronavirus reported in the past 24 hours.
Queensland Treasurer Cameron Dick gave the daily COVID-19 update at the Translational Research Institute at the Princess Alexandra Hospital in Woolloongabba on Sunday.
"We have had no new COVID infections in our state over the past 24 hours," Mr Dick said.
"So that is a terrific outcome for our state."
Health authorities are awaiting results after testing crew onboard a cargo ship docked at Fremantle Port for coronavirus overnight.
Sources at the port have told WAtoday medical staff boarded the Kota Legit on Saturday evening to test unwell crew members.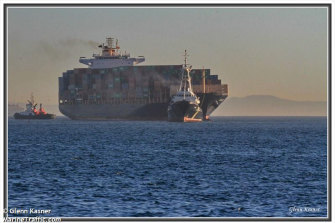 The container ship left China on September 12 and stopped into Port Klang in Malaysia on September 23 before mooring at the Patrick terminal in Fremantle Port on Saturday around 6am.
It's understood concerns were first raised when crew preparing to offload the ship commented to local dock workers that the process may be slower than usual due to some crew being unwell.
London: Britain has recorded 12,872 new coronavirus infections, by far the highest daily total since the outbreak began, though the figure includes a backlog of previously unreported cases.
The government says the figure includes an unspecified number of deaths over the past week that have not been reported because of a now-resolved "technical issue".
Saturday's total is more than 5000 cases more than the previous high, recorded last week.
Britain is seeing a second spike in coronavirus cases, though the daily number can't directly be compared to the outbreak's UK peak in April because many more tests are now being performed now.
The number of hospitalisations and deaths is also rising but remains far below the UK's springtime peak. Another 49 COVID-19 deaths were reported on Saturday. Britain's official coronavirus death toll is 42,317.
AP; The Telegraph, London