Ms Frecklington said the building-to-rent" scheme was designed to "drag Queensland out of recession" by stimulating the economy.
"Reducing tax on build-to-rent projects is a pro-jobs policy that will mean more work for carpenters, electricians, plumbers and suppliers," she said.
"We will deliver the certainty needed to build and create jobs in these uncertain times."
Ms Frecklington said similar schemes were popular in the US and UK.
"Under the build-to-rent model, developments are designed specifically to be leased to tenants," she said.
"While it's a fledgling industry in Australia, it is a $US3.3 trillion [$4.6 trillion] sector in the United States and worth an estimated £70 billion [$126 billion] in the United Kingdom."
The scheme has been trialled by Labor in Queensland, and other states, on the back of federal government support.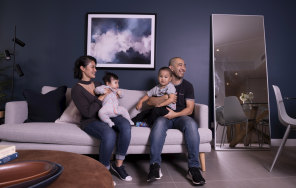 Former treasurer Jackie Trad flagged the idea in April 2019, however it was met with a muted response from industry, Treasurer Cameron Dick reported in July this year.
Property investment blog MacroBusiness questioned whether the scheme would deliver lower rents, saying it would need serious analysis.
The blog, which features advice from economists and industry professionals, said government could instead use low interest rates to borrow and directly build more affordable housing.
However, the Queensland economy has an emerging debt problem, with government borrowings to surpass $100 billion by June 2021.
Shadow treasurer Tim Mander on Sunday said Labor had not reduced land tax as an incentive for the private sector to enable the scheme to work effectively.
"Labor's high taxes are one of the major barriers stopping the build-to-rent industry from growing in Queensland," Mr Mander said.
"New South Wales has slashed land tax on build-to-rent projects, and if Queensland doesn't act fast, we will miss out on millions worth of investment and thousands of jobs to other states."
On Saturday, Mr Dick also announced two new build-to-rent schemes if Labor wins the election.
He said 240 apartments out of a total of 750 would have reduced rents at two building projects in Newstead and Fortitude Valley.
"Following the finalisation of designs for the two projects, it is anticipated that construction will commence in mid-2021," Mr Dick said.
The two sites are located at 210 Brunswick St, Fortitude Valley, and 60 Skyring Terrace, Newstead.
Tony Moore is a senior reporter at the Brisbane Times