Health authorities 'concerned' as Victoria's numbers stagnate
Victoria recorded 12 new cases and one death on Sunday. The city's 14-day rolling average is 11.9, which is slightly down from Saturday.
With the number of Victoria's active cases stagnating on Sunday and mystery cases increasing, health authorities say they are "concerned".
Three new mystery cases have been identified in the postcodes of 3145, 3023, 3019, which covers suburbs including East Malvern, Caulfield East, Caroline Springs, Deer Park and Braybrook.
Loading
Professor Sutton said he was "absolutely" worried by the stagnation in dropping active cases today, but fewer aged care cases should ensure lower numbers over coming days.
"Obviously it will be reflected with the fact that there have only been a dozen cases that have completed their infectious period that are no longer considered cases, and we've got 12 new ones," he said.
"But we need to drive it down … the activity in aged care continues to drop, especially for residents, but also for staff as well. This will slowly but surely reduce active cases.
"Mystery cases or cases of unknown origin remain a concern."
Premier won't 'put a timeline' on 5km rule
Premier Daniel Andrews has not ruled out keeping the five-kilometre radius rule in place well past October 19, after thousands of Melburnians took to the beaches yesterday.
He said on Sunday he could not "put a timeline" on when the rule would be removed.
"Those rules serve a really important purpose and they'll be in place as long as that purpose is relevant and proportionate," he said.
"There'll be a time when that can come off, but exactly when that is, or might be extended, when that is, we can't be certain now."
Loading
The five-kilometre radius from home restrictions were expected to be rolled back when Victoria's rolling 14-day average for cases dipped under five per day, along with fewer than five mystery cases across the state during a two-week period.
Mr Andrews said he was "as confident as you can be" that Victoria was on track to make changes to COVID-19 restrictions at the earliest possible date on October 19.
"You can't be certain, that's not the nature of this virus. But all of our modelling that's been run and rerun, inputs from multiple universities … (the public health team is) confident we're a week ahead of schedule, that's why we went from roughly the 26th back to the 18th or 19th," he said.
'Dont do anything silly or selfish right now'
After a number of arrests by police on Saturday at Melbourne's parks and beaches, the Premier has again encouraged Victorians to continue to follow the rules.
Victoria remains on track to open up further on October 19, Daniel Andrews said, and he was "pleased to see these numbers trending the way that they are".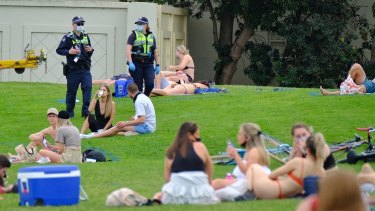 With Melbourne experiencing overcast conditions on Sunday morning, and rain expected, Mr Andrews said he hoped "not to see the behaviour we saw Friday night, and in some instances, a little bit yesterday".
He thanked Victorians who followed the rules while out in public in parks and beaches, saying "heavens knows Victorians have earned it, but it has got to be done in the right way".
"We've just got to stay the course on this. The trend is with us, the numbers are coming down, once we get them low, we can keep them low and we can open up again," Mr Andrews said.
"And if you want to spend summer at the beach, then that will be the time to do that. If we don't do anything silly or anything selfish right now."
Chief Health Officer Brett Sutton said while he "focused on [discussing] lawbreakers yesterday", he had seen many examples of people doing the right over the last 24 hours.
Ashleigh McMillan is a breaking news reporter at The Age. Got a story? Email me at a.mcmillan@theage.com.au