The waste, which comes mainly from medicine, is now stored at more than 100 sites around the country, including science facilities, hospitals, universities and the Australian Nuclear Science and Technology Organisation in Sydney.
But Labor will seek to amend the laws so that the minister responsible, Resources Minister Keith Pitt, can use existing powers to nominate any site under the current legislation. Labor says the changes would still give the local community access to a significant community fund on offer and would ensure the decision be subject to a judicial review.
Seven Labor MPs spoke up in the debate over the legislation, which lasted for more than an hour.
Senator Gallacher, who co-chaired a recent Senate inquiry into establishing the facility, hit out at his colleagues and said the current plan was "as good as it gets" and the issue needed to be resolved.
He told the meeting Australia had spent four decades debating where a facility should be located and had spent "vast sums of money" on finding the ideal location.
Senator Carr said Labor risked looking opposed to nuclear medicine by attempting to derail the plans and it could incur the wrath of the scientific community, which was largely supportive of the plan.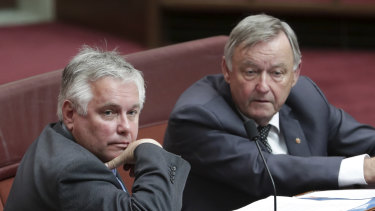 A community ballot, run by the Australian Electoral Commission, was held at Kimba in 2019 and showed more than 60 per cent of the community supported the facility.
But the traditional owners of the region, the Barngarla, were not included in the vote because it was limited to those living in the Kimba Council area.
The group later challenge the ballot under the Racial Discrimination Act in the Federal Court but it was dismissed.
Opposition science spokesman Brendan O'Connor said federal Labor supported the need for a national facility to store radioactive waste.
Loading
"This government has had existing powers under the current legislation for the past seven years to determine a site, but under the guise of compensation has sought to remove proper scrutiny, through this proposed legislation," he said.
"This is a contentious issue and should be subject to the highest levels of scrutiny to ensure that the principles of procedural fairness and natural justice have been applied given the national significance of this matter."
Mr Pitt has said if Australia wants the benefits of nuclear applications, which are used in the diagnosis of heart and lung conditions and the treatment of specific cancers, it must responsibly deal with the waste produced.
A Senate committee last month recommended the legislation be supported but three members – the Greens' Sarah Hanson-Young, Independent senator Rex Patrick and Labor senator Jenny McAllister – issued dissenting reports.
Senator McAllister said the proposed facility had not received the support of the relevant traditional owners in South Australia.
Get our Morning & Evening Edition newsletters
Rob Harris is the National Affairs Editor for The Sydney Morning Herald and The Age, based at Parliament House in Canberra