The last candidate standing will inherit an organisation whose appellate body — its supreme court — has been paralysed since last December, leaving the rules-based international system under threat and commerce itself choked by trade wars and the pandemic.
But in an exclusive interview with the London Telegraph, Okonjo-Iweala claimed to be uncowed.
"Would you be more scared if your mother was kidnapped and held to ransom with a demand that you resign your job publicly on television — or else you would not see her alive — or if you said to the US and China, you have to bridge your differences?" she said. "It's going to be a tough task but you can't compare it with what I've had to go through."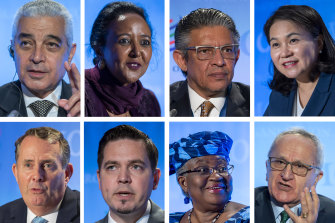 Members' preferences remain secret until the selection process is completed on November 7, after the US presidential election. The system has drawn criticism for taking place behind closed doors in Geneva but Okonjo-Iweala stopped short of pledging to make it more transparent, suggesting only that it should be "faster, quicker and more efficient".
Asked what distinguished her from her main rival to win — Mohamed, another high-flying African woman who is the bookies' favourite — Okonjo-Iweala claimed she was "the only candidate working at the intersection of public health and trade", given her current role as chairman of the board at Gavi, the vaccine alliance backed by the Bill Gates Foundation.
Loading
"The WTO has to be part of the solution to the COVID-19 pandemic," she said. "The WTO has rules on how, in a public health emergency, you can invoke the possibility for countries to license products and produce them to make them more affordable and accessible. South Africa invoked it during the HIV crisis when people were dying because they couldn't get access to HIV drugs."
She pledged to "massively step up the monitoring effort" of countries imposing export restrictions on medical goods and medicines.
"What is needed now is not more of the same but a reformer who can actually change things," she said.
"If you don't do this, the WTO will go into irrelevance."
The Telegraph, London