Cochrane also grew up as an only child, but his parents were both drug addicts and his upbringing featured dysfunction, neglect and frequent police raids.
By the time Cochrane was 19, addictions had killed both his parents and he too had plunged into drug abuse and a chaotic life of crime.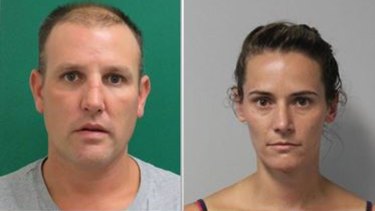 Almost two decades later, on August 29 last year, Cochrane was addled by ice and GHB and speeding an unregistered car when he ran a red light and hit Ms Perera as the commerce and business student traversed a pedestrian crossing outside Monash University's Clayton campus.
Police estimate Cochrane was driving between 95km/h and 102km/h – in an 80km/h zone – when he hit Ms Perera and the impact threw her 60 metres. The 20-year-old died instantly.
Cochrane and girlfriend Lauren Hindes, seated next to him in a blue Mazda that night, quickly established they hit someone, the County Court heard, but didn't stop and spent the next four days evading police.
On Tuesday, Cochrane, 38, was jailed for 10 years after pleading guilty to culpable driving causing death, failing to render assistance and other driving offences, as judge Liz Gaynor outlined the devastation he caused.
"You are now responsible for the death of a beloved only daughter who was the centre of her parents' world … their lives have been entirely and irrevocably shattered," Judge Gaynor said.
Ms Perera's mother told an earlier hearing Nisali brought joy and happiness from the day she was born, but that she and Nisali's father were now grief-ridden, lonely, felt guilt at letting their daughter go and worried about their own future without a dependent to care for them when they get older.
Loading
"I am 52 years of age and I don't have any hope of another child. My only child is gone for good," Mrs Perera said.
"The feeling of loneliness and despair is immense."
Cochrane, who wiped away tears as Judge Gaynor read from the mother's victim statement, must serve eight years before he is eligible for parole.
After the crash, Cochrane drove to an abandoned church and he and Ms Hindes left the Mazda and got a lift with a ride-share driver, who suspected the couple did something wrong as they ducked whenever police cars drove past.
They were eventually arrested five days later at a house in Officer, south-east of Melbourne.
The hit-run was an escalation in Cochrane's "appalling" driving record, Judge Gaynor said, which included previous convictions for driving on drugs, speeding and leaving the scene of a crash. He once drove at 200km/h during a police pursuit and also has prior convictions for drugs, violence, dishonesty and weapons offences.
Psychologists diagnosed him with ADHD and an acquired brain injury – the latter related to his drug use – and believe those factors were behind his impulsivity, poor decision making and inability to focus. One psychologist said Cochrane recalled reaching for his phone as he veered across three lanes and overtook a truck before he hit Ms Perera.
Judge Gaynor accepted Cochrane's impairments contributed to his offending, but they were worsened by his decision to use drugs. While she had "great sympathy" for his childhood and accepted his remorse, he had failed numerous efforts to help him get off drugs and the community needed protection.
Ms Hindes, 34, is awaiting trial charged with assisting an offender.
Adam Cooper joined The Age in 2011 after a decade with AAP. Email or tweet Adam with your news tips.