Contact tracing has commenced in south-west Sydney after three new cases of COVID-19 were confirmed earlier today.
People who attended the Fitness First Carlingford Pilates Class on Saturday October 3 from 8.15am to 9.15 am are considered close contacts and must immediately get tested and self-isolate, even if a negative test is returned.
The health department is also assessing potential exposure at several other venues. Anyone who attended the following venues at these times is considered a casual contact and should immediately isolate and get tested even if any symptoms develop.
Friday 2 October: Kmart, Narellan Town Centre, Narellan – 6pm to 7pm
Saturday 3 October: Fitness First, Carlingford (all attendees other than those in the pilates class): 8am to 9.15am
Sunday 4 October: Penrith Homemaker Centre, Penrith – 11am to 1pm
Sunday 4 October: Guzman y Gomez, Penrith – 1.30pm to 2pm
Sunday 4 October: Home Co, Penrith – 2pm to 2.30pm
Monday 5 October: Westfield Parramatta – 9.30 am to 11am
Monday 5 October: Castle Towers Shopping Centre, Castle Hill – 12pm to 1pm
"Testing numbers have dropped recently, which is a concern," a NSW Health statement read.
"NSW Health renews its call for increased testing across Sydney, even if you have the mildest of symptoms like a runny nose or scratchy throat, cough, fever or other symptoms that could be COVID-19."
The daily update from Victoria's Chief Health Officer has arrived and confirms that two of today's new cases are linked to the Butcher Club-Chadstone outbreak.
Four of today's six new cases are linked to known outbreaks – two are linked to the Chadstone Shopping Centre outbreak, one is linked to a Dandenong household outbreak and one is linked to aged care. The other two cases remain under investigation.
Two cases are in the Glen Eira and Whitehorse council areas, while Banyule and Greater Dandenong have recorded one new case each.
Active aged care outbreaks with the highest active case numbers are as follows:
24 active cases are currently linked to Estia Aged Care Facility Keilor (total cases: 51)
10 active cases are currently linked to Edenvale Manor Aged Care Facility Keilor East (total cases: 23)
8 active cases are currently linked to Opal Hobsons Bay Aged Care Facility (total cases: 46)
5 active cases are currently linked to Embracia Moonee Valley Aged Care Facility (total cases: 81)
Non-aged care outbreaks with the highest number of active cases include:
31 active cases are currently linked to the Chadstone Shopping Centre (The Butcher Club) outbreak (total cases: 31).
6 active cases are currently linked to Electra Park Medical Centre Ashwood (total cases: 6)
5 active cases are currently linked to the Springvale shared accommodation outbreak (total cases: 8)
Hey it's Adam Carey here. Normally I cover education news but today I'll be in charge of the blog until stumps some time this evening. I've always liked the idea of hosting my own radio show. I guess live blogging is similar enough, right?
If nothing else it'll distract me from the pain of Joe Daniher and Adam Saad walking out on the Bombers …
Debby Blakey, the chief executive of healthcare fund Hesta, has criticised the budget for a lack of policies directed at supporting women and low-income Australians.
"While the announcement of significant spending to stimulate jobs growth and economic recovery is
welcome, we're concerned this budget is a missed opportunity to address systemic weaknesses in our
national economy exposed by the COVID-19 crisis," Ms Blakey said.
"Instead of recognising the gendered nature of the economic slowdown, the budget directs many stimulus measures towards male-dominated industries and will do little to address entrenched social and gender inequality holding back our economy."
Hesta manages $52 billion in super fund assets on behalf of 870,000 members, 80 per cent of whom are women. Ms Blakey said it was "particularly disappointing" that there had been no change to childcare policy, including funding for early education.
"Get this right and Australia could land a 'triple dividend' – a more efficient acceleration of economic growth, higher long-term productivity and greater resilience to meet future challenges like our ageing population and pandemic shocks," she said.
A growing number of White House staff and senior Republicans have tested positive for COVID-19 since President Donald Trump revealed he had contracted the virus.
Four more White House officials tested positive on Tuesday, including Stephen Miller, a top adviser to Trump, bringing to 14 the number of people carrying the virus at the White House or in the President's close circle.
Aides said that Trump made calls from the White House on Tuesday (local time) and roamed the areas of the presidential residence that had been set up for him. Although he was described as itching to get back into the Oval Office and show that he was in charge, a potential live address to the nation was discussed but scrapped in favour of a planned taped one.
Prominent supporters of the administration said Trump should have stayed at the hospital until he was no longer infectious or should remain confined to his residence.
"When a boss comes down with COVID, whether that boss is the president, a CEO, a principal at a school, a union foreman on a shop floor, and the boss shows up for work, it sends a very worrisome message to all of those around the boss," said Ari Fleischer, a former press secretary to President George W. Bush.
"There is a community of people who work in the White House, not just political appointees. A good boss always takes care of his or her employees."
The New York Times
Now to the world's most famous COVID-19 patient, with this piece from The Telegraph:
US President Donald Trump may be out of the hospital, but as his doctor cautiously pointed out, he is not out of the woods. A four-day recovery time for coronavirus would be, frankly, astonishing.
Boris Johnson was in hospital for 16 days, and needed several weeks to recover afterwards. It could be that the President's infection was less severe than the British Prime Minister's. But being given oxygen, remdesivir and dexamethasone is highly unusual for a mild case. All three suggest that at one point his condition was looking fairly serious.
Trump was flown to hospital after developing a fever and fatigue. For a President so obsessed with the "optics" it is unlikely he would have been persuaded to leave the White House had his condition been mild.
Even with mild cases, the average time for recovery for a man of his age is around two weeks. Antibodies to the virus will not kick in for another few days — they normally emerge after about a week — so he is still very vulnerable to his conditioning deteriorating.
There is also the risk he could pick up a greater viral load now he is back in the White House, where increasing numbers of infections are emerging.
Doctors also recommend that anyone testing positive for COVID-19 should have no contact with others until two negative tests have been recorded at least 24 hours apart. Trump is still positive, and is almost certain to be shedding the virus.
So far from being out of the woods, the President may be putting himself and those around him at risk by leaving hospital so soon. Only time will tell if the decision proves a political masterstroke, or a fatal miscalculation.
The reopening of Queensland's border with NSW on November 1 has been thrown into doubt after three local COVID-19 cases emerged in Sydney.
It has also reignited the interstate stoush over border closures.
NSW Premier Gladys Berejiklian said the three new coronavirus cases indicated how "unrealistic" Queensland's standard for reopening its border was.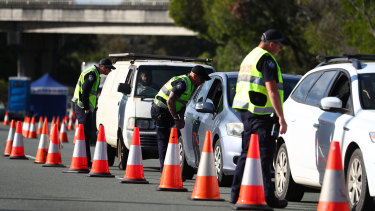 The Premier said it was "highly improbable" her state will ever reach the 28 days without community transmission needed for Queensland Premier Annastacia Palaszczuk to welcome NSW residents across the border.
Ms Berejiklian says states with hard borders such as Queensland and NSW would be "better off getting those borders down, creating jobs through tourism and business and generating economic activity and keeping jobs" than continuing to ease restrictions for their own residents.
She is still hoping all states and territories will open their borders by the end of the year.
"I would hope that the federal government's intention to have all those borders coming down by Christmas is actually acted upon," she said.
Federal Treasurer Josh Frydenberg shares Ms Berejiklian's optimism, saying he is "confident that those domestic borders will open by the end of the year as the Prime Minister has discussed with the premiers and the chief ministers at National Cabinet".
But Ms Palaszczuk says she's following the guidelines set by the medical experts. Her state recorded no new cases of COVID-19 on Wednesday after 4148 people were tested.
On a personal note, this blogger would very much like to see her family in Queensland for Christmas.
As we reported earlier there are now 206 active cases of COVID-19 in Victoria.
That's 10 fewer than yesterday, 99 fewer than a week ago and 1473 fewer than a month ago.
Victoria's active cases peaked two months ago today on August 7 with 6776 cases.
As of today, 28 per cent of all active cases (58) are linked to aged care outbreaks, and 12 per cent (26) among healthcare workers.
There are just two active cases in regional Victoria – those connected to the Butcher Club-Chadstone outbreak.
More detail on other outbreaks will be released in the Chief Health Officer's daily update later this afternoon.
Good afternoon, it's Marissa Calligeros here and I'll be with you for a short time.
If you're just joining us, here are some of the key developments of the day so far:
Melbourne's Butcher Club-Chadstone outbreak, which is believed to have been sparked when a Frankston cleaner failed to self-isolate after her family members contracted the virus, has grown to 31 cases.
In NSW, three new local COVID-19 cases in Sydney and a warning there could be more to come have put the potential November 1 Queensland border reopening at risk.
Six COVID-19 cases were confirmed in Victoria today, along with two more deaths.
NSW recorded three cases in returned overseas travellers in quarantine, but another three in local residents. It has ended the state's 12-day streak of no local community transmission.
The cases in people from west and south-west Sydney, who as yet have not been connected, are under "urgent investigation".
People who have been at Chadstone Shopping Centre in Melbourne in the last 10 days are urged to get tested if they have even the mildest symptoms.
More than 200 residents of the town of Kilmore came forward for COVID-19 testing on Tuesday, after the virus spread to the area via a traveller connected to the Chadstone outbreak. Anyone who visited the Oddfellows Cafe in Kilmore, even to pick up takeaway, between last Wednesday and Saturday should get tested and self-isolate immediately.
The Frankston cluster is now under control, authorities say, but the Chadstone and Kilmore outbreaks continue to be of concern.
In more budget reaction, Sue Morphet, president of Chief Executive Women, says the federal budget fails to seriously target industries employing women.
"The support for women is nowhere near enough, $240 million in the women's economic statement is over five years," Ms Morphet told ABC 774.
"It is good, it encourages women in STEM. It looks at leadership and looks at harassment for work, it looks at paid parental leave over COVID. But what it's not doing is it's not addressing the fact that is a 30 per cent difference between the full-time workforce participation of men and women. And women have been badly hit by this, and there is no serious targeting of the sectors that employ women.
"There's been major targeting of the sectors that employ men and we applaud that. But we need an equal and opposite employment opportunity and focus for women coming back into the workforce."
Support for apprentices was welcome, but not many women worked in those industries, she said.
"We encourage all women to take on all sorts of jobs, whether they be traditional female jobs or traditional male jobs… but that's a slow-get for women," she said.
"It's great for men who are actually ready to take those jobs on. But we need investment in health care, aged care workers, teachers, retail transport, small businesses.
"If we don't invest in those sectors, we're not going to get the women back into the jobs at the level that we want."
The budget had also missed a chance to improve access to childcare, she said, and women continued to face a disincentive to work more than part-time.
"They hold the majority of the part-time jobs in Australia, and they are going to be re-employed back when they are employed as part-time workers, therefore they're not going to get the high discretionary spend that's going to go into the household. They're not going to benefit from tax cuts. There's so much that's not going to benefit women, because we don't have the ability for so many of them to work full-time and have childcare as an enabler," she said.
"It is my view that the government sees this as a structural change to spending, not, I'm going to use the word 'stimulus' change to spending.
"So much of the work that's come out in this budget shows like they're putting their foot on the accelerator with expenditure to get the economy going, and then the economy can run on its own, and they can pull back this higher level of spending.
Ms Morphet said a program to address workplace harassment should not be seen as a spend on women, as it should benefit everyone.
"It shouldn't be classified as spend on a women's economic statement, it should be classified as social spend for an Australian economic statement. It is nonsense to put it in there and say 'we're spending on behalf of women'."