The Labor campaign has jetted into its most vulnerable part of the state, Townsville.
At stake in Townsville are three Labor-held marginal seats which Annastacia Palaszczuk needs to hold and Deb Frecklington wants to win.
The costal city is home to three marginal seats, Thuringowa (4.1 per cent), Mundingburra (1.1 per cent) and Townsville (0.4 per cent).
The state electorate of Townsville is the most marginal in the state, which Labor holds on a knife's edge of 0.4 per cent.
Labor's Scott Stewart narrowly won the seat in 2017 despite a swing against the party towards One Nation.
The LNP has been campaigning heavily on law and order issues around Townsville and has put forward police inspector Glenn Doyle in Mundingburra.
It's only day two of the election campaign and while the wheels aren't coming off just yet, at least one campaign bus is having trouble with its doors.
The Labor camp has touched down in Townsville after spending the morning in Mount Isa, but the media pack have been left temporarily stranded after their bus developed door trouble.
Election campaigns have a large element of theatre to them, and one of the most well know is to get your candidate in some high-vis and a hardhat standing in front of a factory or mine or other industrial looking thing, all the better to talk about Jobs and Growth.
Both parties appear to be leaning into that idea heavily this campaign, with both Annastacia Palaszczuk and Deb Frecklington spending the first two days in the fluoro vests.
Ms Palaszczuk just inches ahead of Ms Frecklington after she donned a hardhat to tour the Mount Isa copper smelter, but there's still plenty of time, and factories, for Ms Frecklington to catch up.
LNP leader Deb Frecklington says she was "really excited" about $200 million in the federal budget to go towards her party's $33 billion pitch to make the Bruce Highway four lanes between Gympie and Cairns.
The money was included among infrastructure funding announced over the federal budget's forward estimates on Tuesday, after Ms Frecklington previously announced she would lobby the Morrison government to cover 80 per cent of the total cost of the 15-year-plan.
"I was really really excited and pleased that Scott Morrison's federal government backed in the LNP's … plan to four-lane the Bruce [Highway]."
"What we've seen from the Morrison government is $20 million to go toward the detailed planning study to make sure we've got this vision and we can turn it into reality," she said.
But Queensland Treasurer Cameron Dick said the budget announcements had revealed the LNP had made promises without securing funding first.
"Deb Frecklington's Bruce Highway plan has turned into a highway hoax," Mr Dick said.
"The Federal Government promised, not $26 billion, they promised $20 million, which is enough to build 900 metres of bitumen."
Ms Frecklington would not be drawn on whether Mr Morrison had plans to visit the state during the campaign and deliver any further pledges about the key stretch of road.
Premier Annastacia Palaszczuk has not responded to a request for chief health officer briefings for the LNP during the caretaker period, leader Deb Frecklington says.
It comes after Deputy Premier Steven Miles said it was too early to say whether three new COVID-19 cases in NSW would reset the clock on the 28-day community transmission-free requirement for a broader border reopening.
"I actually wrote to the Premier last week seeking four briefings from the chief health officer through the caretaker period and I'm yet to have a response from the Premier," she told reporters in Brisbane's north.
Asked if she would override the current border policy and roadmap, Ms Frecklington said she would get a briefing from chief health officer Jeannette Young and "take her advice".
"I have always said the borders shouldn't be set and forget. I have always said as well, that the borders shouldn't be closed for one day longer than they have to be."
LNP leader Deb Frecklington has ruled out any taxes and forced or voluntary public sector redundancies to help fund her party's campaign pitch to Queensland voters.
Announcing a plan to cut energy prices for manufacturers at a steel factory in the north Brisbane seat of Nudgee, held by Labor MP Leanne Linard on a margin of 14.32 per cent, Ms Frecklington said the party would not rely on any "new taxes" or public sector cuts to do so.
Speaking in Mount Isa earlier on Wednesday, Treasurer Cameron Dick slammed the LNP's economic credentials, saying they had "no choice" but to cut jobs to pay for their promises.
"How are they going to fund their commitments? Last night Deb Frecklington said she would stabilise debt – exactly the same words that Campbell Newman used," Mr Dick said.
Former Premier Campbell Newman famously sacked 14,000 public servants during his single term in office, credited as one of the major reasons he was subsequently defeated by Annastacia Palaszczuk in 2015.
Asked about Mr Dick's comments, Ms Frecklington said she understood the Palaszczuk government had already put a voluntary redundancy program in place.
"What I can say is that we won't be offering that and we will be ruling out any forced redundancies," Ms Frecklington said.
Mr Dick said they did not have a voluntary redundancy program but conceded they won't be growing non-frontline positions, rather than in "natural attrition" where people who leave are not replaced.
The LNP has announced a plan to lower the energy bills of manufacturing companies in Queensland, in a move it says will generate more jobs.
Party leader Deb Frecklington made the announcement in Banyo on Brisbane's northside on Wednesday.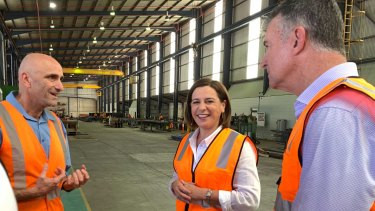 Under the plan, the LNP would provide a $493 million Community Service Obligation to the government-owned corporation Energy Queensland.
Ms Frecklington said this would then mean Ergon and Energex would not have to charge manufacturing businesses a rate of return on power provided through state distribution networks.
"[This will] reduce manufacturing businesses electricity costs by up to 20 per cent" Ms Frecklington said.
"This is about securing the jobs of 163,000 Queenslanders right now, who work in manufacturing."
LNP Leader Deb Frecklington speaking in Brisbane on Wednesday
Deb Frecklington has taken the LNP campaign to Brisbane's northside on Wednesday, expected to make an announcement on energy and manufacturing.
She's at a facility at Northgate, in the electorate of Nudgee, which is a safe Labor seat.
Labor has announced a billion-dollar project – Copperstring – to connect the northwest minerals province to the national power grid
Premier Annatsacia Palaszczuk described the project as "nation building" in the same way the rail line to the region was 100 years ago.


Premier Annastacia Palaszczuk dons the first hardhat of the campaign on her visit to the Mount Isa Copper SmelterCredit:Jack Tran/ Queensland Government

Queensland may keep the NSW border shut for longer after three suspected cases of community transmission were recorded in western Sydney.
Deputy Premier Steven Miles has again hit out at the LNP for their policy to preference Labor last across the state, saying they are "effectively endorsing" anti-vaxxers by preferencing the Informed Medical Options party over Labor.
The LNP will have a chance to put its case when leader Deb Frecklington stands up in Brisbane shortly for her first campaign appearance of the day.