The deficits are largely driven by a collapse in tax revenues, due to the current recession, and a lift in payments including assistance to the unemployed.
But outside the direct impact of the coronavirus, the budget shows many more risks ahead, which would hit taxpayers if they came to pass.
Treasury said the three current royal commissions under way, covering natural disaster arrangements, the aged care sector and exploitation and violence towards people with a disability, could all require federal funding to address their recommendations.
They are on top of the risks of extra costs should there be a new widespread coronavirus outbreak.
"There is also a risk that further government expenditure may be required to respond to the direct impacts of the pandemic," it said.
"The need for, and scale of, this potential expenditure would depend on the nature of further possible outbreaks and how effectively they are contained."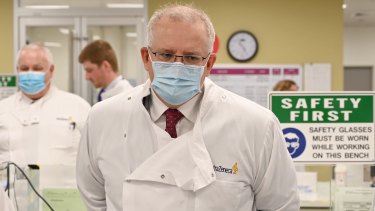 The pandemic has also added to other risks the government must taken into account.
The Treasury has provided legal indemnities to external advisers used to provide insights into "emerging market issues" related to the coronavirus outbreak.
The Social Services department faces a possible shortfall in debt collections after it paused social welfare debt recovery actions in early April in response to the pandemic. Debt recovery is due to re-start at the end of October but it is being assessed on a monthly basis.
Loading
Separate from the coronavirus, the government's first home loan deposit scheme now means the federal taxpayers may have to cover the cost of mortgage defaults.
Fifty per cent of the value of loans to small and medium-sized businesses under the government's guarantee scheme plus all of the loans under its arts and entertainment sector program also ultimately expose federal taxpayers.
Treasury estimates the maximum liability under both schemes is a combined $20 billion.
Some guarantees are long standing.
The Rudd government introduced a guarantee on state and territory government borrowing during the global financial crisis in 2009. NSW and Queensland took advantage of the scheme with $1.3 billion in debt still guaranteed by the federal government.
Loading
The government still has $4 billion to give to the "first Victorian government" prepared to build the East West Link road project and $1.2 billion for the first West Australian government to build the Perth Freight Link project.
The government has also included among its fiscal risks for the first time the legal fallout from the class action against the "robo-debt" scheme which was found unlawful by the Federal Court last year.
Law firm Gordon Legal has started a class action seeking damages for distress and interest on the money claimed back from welfare recipients unlawfully.
Get our Morning & Evening Edition newsletters
Shane is a senior economics correspondent for The Age and The Sydney Morning Herald.