Loading
The tallow wood-blue gums on the Dorrigo Plateau include many hollow trees that host a range of owl species and mammals such greater and yellow-bellied gliders.
"It's awe-inspiring to go into these forests. These are just magnificent trees," Mr Pugh said.
The EPA said the charges relate to the alleged felling of trees in the Wild Cattle State Forest by contractors in exclusion zones and protected areas, some of which were specifically set up to protect koala habitat.
"We have strict procedures in place to protect wildlife, and if they are disregarded it can put these animals under threat," EPA's Acting Chief Executive Officer Jacqueleine Moore said in a statement.
"We're sending a strong message that laws created to protect the environment, and in particular vulnerable species like the koala, must be adhered to," Ms Moore said.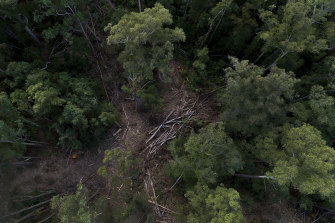 The EPA alleges the contractors felled trees and operated so-called snig tracks created by harvesting machinery within a koala high-use exclusion zone. They also allegedly felled trees in protected rainforest areas and an exclusion zone around warm temperate rainforest in breach of Forestry Corporation's licence.
All up, the five offences carry a maximum penalty totalling $1.21 million, with the prosecutions listed for mention before the court on October 16.
Sue Higginson, a former chief executive of the NSW Environmental Defenders Office, welcomed the prosecutions, saying Forestry Corp had been "a systemic repeat offender".
"The EPA needs to get this environmental operator [Forestry Corp] to act in accordance with the law," Ms Higginson said.
A Forestry Corp spokeswoman said that "during this renewable timber harvesting operation 21 hectares of koala habitat were set aside, which was three times what was required under the ruleset, protecting an additional 6000 trees".
"The EPA allegations relate to nine trees," she said, adding "Forestry Corporation recognises the importance of complying with the strict environmental regulations that apply to forestry operations and carried out a thorough investigation into the circumstances that led to these alleged offences".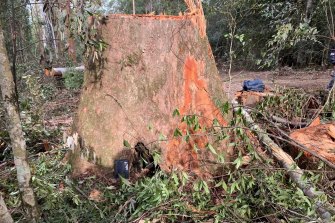 Ms Higginson, though, said the EPA's recent stop work order had come nine days after Forestry Corp contractors had been found to have allegedly illegally logged two giant trees on July 9.
The EPA waited"while the logging went on day after day", she said. "You don't need nine days to work that out."
Ms Higginson said legal changes introduced in 1998 stripped away the public's right to bring legal action against loggers for alleged breaches.
Get our Morning & Evening Edition newsletters
Peter Hannam writes on environment issues for The Sydney Morning Herald and The Age.
Most Viewed in Environment
Loading