Harris delivered some punchy lines early in the debate on the issue that is dominating American life: the pandemic that has killed over 210,000 Americans.
Trump, Harris said, "has been about covering up everything" and had presided over "the greatest failure of any presidential administration in the history of our country".
"They knew what was happening and they didn't tell you," Harris said. "Can you imagine if you knew on January 28th as opposed to March 13th what they knew, what you might have done to prepare?"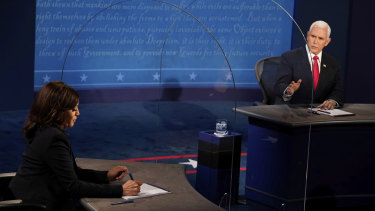 But if either candidate won, it was Pence by a nose. He had the higher degree of difficulty – defending an impulsive and polarising president most Americans believe has mishandled the pandemic – and he did it as well as anyone could have.
The former conservative talkback radio host is a polished operator and he managed to shift the debate onto friendly turf for Republicans several times. Central to his attacks: fracking and packing.
Pence repeatedly attacked Harris for her past support for banning fracking, saying she would pull Biden to the left on this issue if he is elected. This is a particularly potent issue in the crucial state of Pennsylvania, which has experienced a fracking boom in recent years.
Harris responded clearly that Biden would not ban fracking, but this is an issue she would rather not discuss.
He also pressed Harris on court packing – that is, expanding the number of judges on the Supreme Court. Some Democrats have advocated expanding the size of the court as an act of retribution if Republicans approve the nomination of Amy Coney Barrett before the election.
Loading
Harris repeatedly declined to answer the question, which made her look evasive.
Pence also displayed plenty of chutzpah by telling Harris several times that she is not entitled to her own facts – a lined that maddened Democrats given Trump's fondness for falsehoods.
Republicans alarmed by Trump's plummeting poll numbers would have been soothed, at least momentarily, by Pence's smooth performance.
Harris didn't make any gaffes or lose her composure – even as she requested equal time with Pence and urged him not to interrupt her. Behaving like a candidate who believes her team is winning, she played it safe. Her mission was to protect Biden's lead, not to delight Democrats who wanted to see her eviscerate Pence.
No vice-presidential debate in US history has ever had a meaningful impact on an election result. This one almost certainly won't either. The debate didn't have many memorable moments, and will quickly be drowned out by whatever Trump does next.
Matthew Knott is North America correspondent for The Sydney Morning Herald and The Age.