The Coroners Court heard on Thursday that State Coroner John Cain would hold a two-week inquest into the deaths to run from November 23.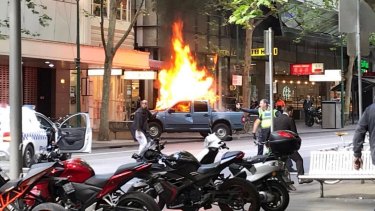 Ron Gipp, representing the Chief Commissioner of Police, said a significant amount of evidence would be called regarding Shire Ali's "risk assessment" and the adequacy of tactical options available to police at the time, such as Tasers and OC spray.
The list of witnesses to appear would include Superintendent Peter Seiz, the officer in charge of operational safety tactics training at the force's training academy, he said.
"There is a lot of evidence to be called regarding risk assessment," Mr Gipp said.
Loading
The witness list, however, will not include civilian eyewitnesses or those injured in the attack, including the security guard who was stabbed after rushing to help Shire Ali, believing he had been the victim of a car crash.
Counsel assisting the coroner Catherine Fitzgerald said statements from those people would instead be submitted to the inquest.
"There's a substantial investigation of this matter, substantial CCTV footage, mobile phone footage, other footage, statements about what they've observed," she said.
"There is really no dispute about what occurred and those matters are well established."
The Ali's family's lawyer, Grace Morgan, told the court she also planned to raise questions about the police's death notification process. Shire Ali's family found out about their son's death on the news.
Judge Cain said he suspected the inquest would be run online because of COVID-19 restrictions but that links would be made available to interested parties, including those who witnessed the attack.
Shire Ali's brother, Ali Khalif Shire Ali, 23, is serving a 10-year jail sentence over his own, separate plans to kill New Year's revellers in Federation Square in the name of Islamic State in 2017.
He was already in prison when his older brother killed Mr Malaspina in Bourke Street.
Erin covers crime for The Age. Most recently she was a police reporter at the Geelong Advertiser.