As NSW added three mystery cases to its coronavirus tally on Wednesday, Premier Gladys Berejiklian took a swipe at Queensland over its two-day deadline for health authorities to determine the sources of the cases through contact tracing.
"I think every time that we demonstrate our capacity to deal with the virus to keep the economy open, the Queensland government comes up with another rule," she told Seven's Sunrise.
"They've suddenly given our experts two days and with all due respect, the experts have enough pressure on them.
"I just want them to do their job, I don't care how long it takes."
Mr Miles, also Queensland's Health Minister, countered that the government would always put Queenslanders' safety first.
Loading
"If it takes more than, say, a couple of days to identify one or more linking cases then that is a number of days that those linking cases may have been infectious in the community while they were unidentified," he said.
"And so that's why it's important that we find those links quickly and if we don't find them quickly then the risk of a further outbreak is greater.
"I'd also note that the Premier of NSW … said she was very concerned about the level of community transmission, so if she is concerned about the situation in NSW, well, so are we."
Queensland Premier Annastacia Palaszczuk admitted she and Ms Berejiklian had not spoken in three weeks.
Mr Miles said the Queensland government had been following hotspot thresholds put in place by the Australian Health Protection Principal Committee.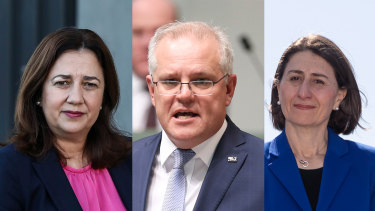 "The Premier of NSW can choose to reject that health advice but it's that health advice that has kept Queensland and Queenslanders safe," he said.
Prime Minister Scott Morrison attacked Ms Palaszczuk during an interview on radio station 2GB over the border war.
"The other day she was saying she was all for jobs. Well being for jobs means you've got to balance the risks that you face, like New South Wales Premier Gladys Berejiklian is," he said.
"They're managing to basically keep cases to an incredibly low level, they're doing a great job with their testing and tracing regime … dealing with outbreaks, getting New South Wales open.
"Queensland can do the same thing.
"… The number of people who have come back into jobs in New South Wales since we hit the pit of that COVID recession is a 70 per cent increase.
"In Queensland, it's 44 per cent."
Jocelyn Garcia is a journalist at the Brisbane Times, covering breaking news.