The Labor campaign has crossed over into the marginal seat of Mundingburra, which covers the southern part of Townsville.
Premier Annastacia Palaszczuk will announce half a million dollars to upgrade a basketball complex in Annandale.
Mundingburra is one of the key seats Labor must retain. Retiring Minister Coralee O'Rourke narrowly won at the last election on a 1.1 per cent margin.
The battle is now between former Townsville deputy mayor Les Walker for Labor and ex police inspector Glenn Doyle for the LNP.
LNP leader Deb Frecklington says she will be pushing for a state budget surplus if the LNP are elected to office, despite the economic climate in the wake of the global pandemic.
Asked about the issue on Thursday in Cairns, Ms Frecklington confirmed they would "certainly try" to get the budget back in black as soon as possible.
"Of course it is a fiscal principal for the LNP to achieve a surplus over the economic cycle," she said.
"But what I'll say is this, is that the Labor Government haven't got a budget so there is no plan and there is no transparency over where Labor have left Queensland."
Ms Frecklington also rejected suggestions from Labor that the only way a surplus could be achieved in the short term was through cuts to jobs and services, saying it was "Labor lies".
Deputy Premier Steven Miles repeated the assertion on Thursday, saying Ms Frecklington needed to explain exactly how she intended to achieve a surplus, a plan he called "economically reckless".
"You don't have to take my word for it – the Morrison government is consistently saying that not only their budget but state budgets should be in deficit because we should be spending to create jobs," Mr Miles said.
"The only way to achieve a surplus right now is to cut and cut deep."
Townsville bar owner Emmanuel Bogiatzis says he is happy for the border with New South Wales to remain closed as long as more restrictions are eased for Queensland businesses.
Mr Bogiatzis, who owns Heritage Exchange on Flinders Street says more people should be allowed inside pubs and clubs especially in regional Queensland where there has been no active community transmission.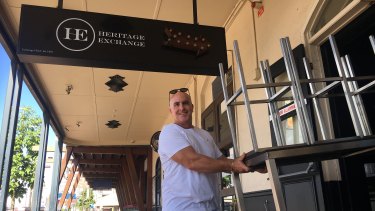 "After midnight there are maybe six or seven licensed venues open and so are finding there is more trouble on the streets than inside,"Mr Bogiatzis, who is also president of Townsville's safe night precinct, said.
"Capacity is limited to about 1200 people at the moment in six venues and then there could be three or four thousand people on the streets.
"Every venue has a queue outside of it and the waits can be an hour plus."
The operator said he would also like health authorities to provide a definition of what dancing is.
"Define what dancing is, is that lifting your feet off the ground and boogying or can you stand there and bop without moving your feet? Nobody had a definite answer," Mr Bogiatzis said.
"Why are we stuck with these restrictions when we have had little cases.
"Just the fact people can stand again has made a big difference."
NSW has again stepped up its rhetoric around Queensland's border closures, saying the criteria of having 28 days free of community transmission is "unrealistic" in a global pandemic.
NSW contact tracers are working to track down all contacts of the cases or risk having them classified as unknown community transmission, resulting in the 28 day clock, currently due to lift on November 1, resetting to zero.
Queensland has again defended its stance in the face of renewed criticism of its border policy from NSW – but what do you make of the situation?
For the record, and not to put our finger on the scales at all – Queensland recorded no new cases on Thursday; NSW recorded 12.
Queensland also reached 28 days with no community transmission of the virus on Thursday, meaning it could theoretically open up to itself, although it might have to stretch first.
The Palaszczuk government will provide $111 million to fund an expansion of the Gold Coast University Hospital.
Deputy Premier Steven Miles says it would include a new 40-bed secure mental health rehabilitation facility as well as a new hybrid theatre used to better treat complex trauma cases.
Mr Miles says there will be 320 jobs created during construction and the expansion will allow clinicians to do more, do better and work faster.
"In the last five years since we were elected, we have increased the budget of the Gold Coast Hospital and Health Service by $510 million, employed 1129 more nurses," he says.
The hospital has been at the frontline of the state's pandemic response – it was where the first cases in Queensland were treated and dealt with a major outbreak in the region at the height of the pandemic.
It was also where Hollywood actor Tom Hanks and his wife Rita Wilson received treatment when they caught COVID-19 in March while he was in town to film a movie.
Annastacia Palaszczuk has slammed a preference swap deal between Katter's Australia Party and One Nation as a "recipe for chaos".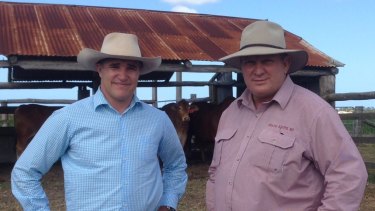 The minor parties have announced they will put each other second and the Greens last on their how-to-vote-cards ahead of the election on October 31.
Campaigning in Townsville on Thursday, Ms Palaszczuk said the deal showed why she needed a majority of seats so Labor could form government in its own right.
"What we're seeing is once again, a recipe for chaos in this state," she said.
"I'm asking Queenslanders for a majority. I asked for it last time, and Queenslanders granted me that wish. Now I'm asking one more time.
Please, in the midst of a pandemic, in the midst of an economic recovery … I'm asking Queenslanders, give me a majority."
Ms Palaszczuk again refused to be drawn on whether she would do deals with any of the minor parties to form a minority government is that was the situation she found herself in after the election.
For her part, when LNP leader Deb Frecklington was asked about the preference deal she merely said "That's a matter for them."
KAP Queensland leader Robbie Katter said the preference deal with One Nation was a direct result of the major parties neglecting regional Queensland.
"For far too long the major parties have continued to sell off our assets, pushed green ideology and failed to invest in regional job-creating mega-infrastructure projects," he said in a statement.
"Queensland can't afford another four years of major party dominance, we know it doesn't work, enough is enough, time's up."
KAP holds Traeger, which Ms Palaszczuk visited with a trip to Mount Isa on Wednesday, as well as Hill and Hinchinbrook, all by comfortable margins.
They also have a chance to unseat Labor in the marginal seats of Thuringowa, Townsville and Mundingburra.
One Nation has just one seat currently, Mirani, but claims it is a chance in the Labor seats of Maryborough and Keppel, as well as the LNP-held Lockyer.
North Queensland's tourism industry did not get a look in from either leader on Thursday despite both Annastacia Palaszczuk and Deb Frecklington based in cities reliant on the tourism dollar.
Neither leader announced new policy or funding to help the industry, kneecapped by state and international border closures, get back on its feet.
The Premier promised funding to upgrade TAFEs and the Opposition Leader announced money for a ship lift in Cairns.
When asked what relief she would offer the tourism industry in Townsville Ms Palaszczuk said "jobs, jobs and more jobs".
"Please, let's back Queensladers during this time, please go out and support your cafes, your restaurants and your tourism operators," she said.
Deb Frecklington said it "broke her heart" to see empty restaurants and hotels in Cairns.
"It is, of course, a very sad time for Cairns…that is why we need to build another industry."
Mr Miles is speaking on the Gold Coast on day three of the Queensland election campaign:
It seems the Labor campaign has not stumped up much cash to help former Treasurer Jackie Trad sell her promise to upgrade Dutton Park Station.
Ms Trad posted a photo on Instagram of her campaigning in her South Brisbane electorate on Thursday morning with a DIY sign.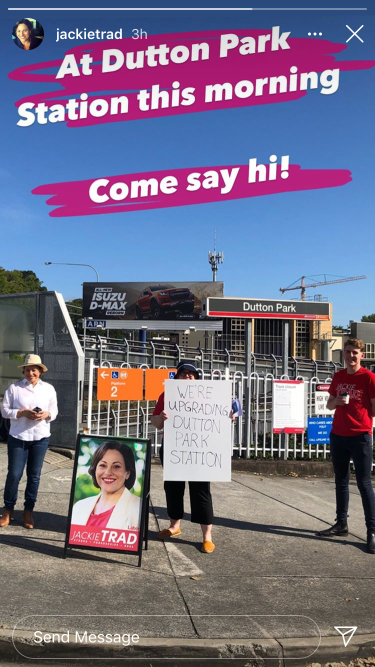 A new pedestrian bridge will be built at the train station in Ms Trad's marginal electorate as part of the Cross River Rail project.
Deb Frecklington's tour of Labor-held Cairns has seen its first union welcome, with about half a dozen protesters turning up outside the site of her day-three announcement hoping for a chat – or at least the chance to wave placards at passing motorists.
"We're here to give Deb Frecklington a bit of a welcome into Cairns," said one of the group, Electrical Trades Union organiser Rob Hill, who lives in the neighbouring Labor seat of Mulgrave (10.92%) to the south.
Mr Hill and the protesters spoke about concerns among locals over the LNP's "flip-flopping" on border closures and the party's public sector cuts when last in power, considering the scale of the planned spending.
"She was part of a government that said workers had nothing to fear, and then straight after the election they sacked 14,000 government workers."
He added that many union members in the region were pleased with the Palaszczuk government's action on industrial manslaughter and wage theft laws, though some – including himself – were disappointed it did not bring forward euthanasia laws.
"We certainly believe that good people shouldn't have to die hard – no person should have to die hard."
However police were quick to spot the group, who were not hopeful of having a chance to chat with the LNP leader directly.