"These shoes produce an increase in running economy and therefore athletic performance that is not commensurate with what an athlete would be capable of," Pitsiladis, a professor of sport and exercise science at the University of Brighton, said.
"Most importantly, the level of improvement can also vary significantly from one athlete to the next, which means it is leading to distorted results."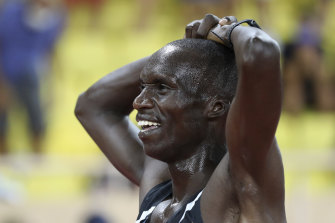 Cheptegei shattered the men's record by more than six seconds, while Gidey went almost five seconds under the previous best. Their performances followed Eliud Kipchoge breaking the two-hour marathon barrier wearing controversial Nike Alphafly shoes, which contain a carbon plate, in Vienna last November.
Pitsiladis, who was involved in a rival project to break the two-hour mark without the assistance of such footwear, said the help provided by them and other forms of technological advances could threaten athletics's credibility at the Tokyo Games.
Loading
He also cited the personalised air-conditioning system that Sony has produced for the Olympics, to assist with the heat in Japan, as an example of another development that could affect the performance of a competitor.
"Nike has certain patents [on the shoe] that may offer them protection but Adidas and other brands are attempting to do the same as them, and the sport of athletics is powerless to do anything as they rely on this sponsorship [from the brands involved]," he said.
"If nothing is done to rectify the situation, we must be prepared for a backlash during the Olympic Games.
"There is an urgent need to examine technology fairness.
"Sport needs to be proactive and set up an independent committee, technology integrity unit or advisory group to examine the use of such technology before it is used in elite sport – because after it enters the sport it is then impossible to withdraw."
Telegraph, London