The latest cases bring the statewide 14-day average, which is tied to the next stage of easing lockdown, to 9.9 new cases per day.
For Melbourne to move to step three of the state government's road map out of lockdown on October 19, Victoria's 14-day average for new cases has to be below five. There also needs to be five or fewer mystery cases between October 4 and October 18 in order for restrictions to be eased on schedule.
The current fortnightly tally of mystery cases to October 6 stands at 12.
Professor Sutton said while it was frustrating to see the 14-day average plateau this week, most cases were linked to known outbreaks.
The Department of Health said six of Friday's new cases were linked to known outbreaks, including two tied to the Uniting AgeWell aged care facility in Preston and single cases linked to the family outbreak in Frankston, the Butcher Club-Chadstone cluster and the Oddfellows cafe outbreak in Kilmore.
The new Chadstone case involves a staff member from the Ferguson Plarre outlet in Chadstone shopping centre. The bakery was deep-cleaned on Friday morning as the employee who tested positive worked in the store on Wednesday.
"They are challenging, but we are throwing absolutely everything at them," Professor Sutton said.
"We will get on top of these outbreaks, we always do. The really hard numbers [mystery cases] are only at two or three per day."
Active cases fall below 200 for first time since June
Professor Sutton said he was pleased the total number of active cases in the state had fallen below 200 for the first time in more than three months.
There are now 195 active cases in Victoria, down from 203 on Thursday. Regional Victoria has four active cases, after the positive case in Mildura reported on Thursday was rejected following further testing.
"It is great to see that the total number of active cases is below 200 for the first time in a long, long time," Professor Sutton said.
The last time the tally of active cases in Victoria was less than 200 was on June 26.
But he said there could be 30 per cent more cases circulating in the community than are being picked up via testing.
"It probably becomes a smaller number on a day when we have got great testing," he said. "It absolutely tells you that anyone who is symptomatic needs to come forward for testing, because that is what will get us to zero cases, zero community transmission."
The total number of active cases includes 45 linked with aged care outbreaks (down from 50 on Thursday), and 19 among healthcare workers (down from 25).
Loading
Seventeen Victorians are fighting the virus in hospital, including one person who remains in intensive care.
On Thursday, 15,585 tests were carried out across the state.
Sutton apologises for confusion in Kilmore
Kilmore residents caught up in the cluster gripping their town received an apology from Professor Sutton on Friday over confusion about "third ring" isolation rules.
The cluster, now at five cases, began after a Melburnian with permission to leave the city stopped illegally to dine at the Oddfellows Cafe on September 30 and infected a waitress who tested positive to COVID-19 on Saturday evening.
The man from Melbourne was linked to the state's largest active cluster, of 31 people, which is connected to the Butcher Club at Chadstone shopping centre.
The contacts of close contacts in Kilmore, including the family members of people who dined at Oddfellows, have been asked to self-isolate and get tested, but residents have received conflicting advice from the Department of Health and Human Services.
Some people were told there was no need for them to get tested, only to receive a call several hours later telling them to immediately get a test and self-isolate. Others have received multiple calls from different public health units.
"I apologise if there has been confusion, but we are committed to making it right and we do want to take that additional precautionary approach now that numbers are so low to get out of stage four," Professor Sutton said.
"We will always be open to whatever tweaks or tightening needs to occur.
"We are [taking a] precautionary approach with that next ring of isolation for contacts of contacts. There are some elements to work through and we will take those lessons and hear the feedback, but we want to make it as tight as possible and I can only thank the people of Kilmore for how they have responded."
Professor Sutton said the "third ring" isolation tactic was designed to protect "the contacts of contacts from going out and potentially exposing others because they might have had transmission to them, even before that close contact has developed symptoms or tested positive".
The latest person to contract the virus in Kilmore was deemed a "casual contact" of the cafe, he said.
"We think it is a direct casual contact of the cafe, so someone went in for a short period of time."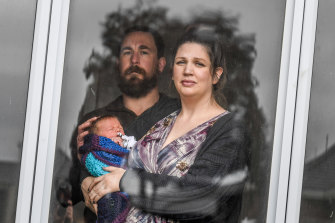 Angela Lawton dined at the Oddfellows Cafe on Thursday, before giving birth to her son Evander in hospital on Friday. She was discharged from hospital on Monday when her friends told her the cafe had been identified as an exposure site.
She called the coronavirus hotline on Tuesday morning and says she was advised not to get tested or isolate unless she developed symptoms. Later that night, she was contacted by Goulburn Valley Health advising her that she should in fact get tested.
"In addition to all the other things with a newborn, it was terrifying to think I could've been patient zero for a serious outbreak in a maternity ward," Ms Lawton said.
Health authorities are also racing to contain an outbreak at Box Hill Hospital, where three staff members and a patient have contracted the virus.
"The exact source isn't clear, but all of the staff are being tested across that entire health facility and all of those who are close contacts are being asked to quarantine at home now," said Professor Sutton.
"We'll get on top of it, but it's a measure of the risk in any health setting."
Rachael Dexter is a breaking news reporter at The Age.