During the campaign, Brisbane Times is running our Ask a Reporter feature, where we'll endeavour to answer all your questions about the campaign, big or small. All the answers can be found here.
Daniel asks: The Gold Coast has progressively turned blue since 2009 with only Gaven now held by the ALP and on a wafer thin margin. How likely and how confident would Labor be to pick up more seats on the Coast and reverse the voting changes of the last 11 years?
Queensland University of Technology political analyst, former Labor government minister and former Speaker John Mickel answers: The Gold Coast is always interesting.
I think Labor will be competitive in five seats – Gaven (obviously), Bonney, Coomera, Burleigh and Currumbin.
It's not true that the LNP domination of the Gold Coast has been a recent phenomenon. Labor had a breakthrough when Merri Rose won the seat of Currumbin in 1992 and she was the lone Labor voice down there for quite some time.
Even when the conservative vote collapsed in 2015, Gold Coast seats remained in LNP hands despite swings to Labor.
But there has been huge population growth, particularly around Pimpama and Ormeau in the electorate of Coomera, which may change the complexion of that seat in Labor's favour.
Another huge issue will be the response to the coronavirus pandemic. The new cases in NSW means that concern will be heightened and there's a significant population on the Gold Coast that can be particularly vulnerable to the virus.
On the other hand, the response from the small business community on the Gold Coast is uneven. There are some that are grateful that they have certainty, that they can move around, they can open – in other words, all the things you can't do in Victoria. But then you have the tourism industry that wants everything opened.
So the chance for Labor may be the growth in Coomera (around Pimpama and Ormeau), hanging on to Gaven and a redistribution that put more Labor areas into Bonney. The dead giveaway was Deb Frecklington, on the first day of the campaign, campaigned in Bonney – not a seat they hoped to win, but a seat they hoped to retain.
Annastacia Palaszczuk will not say whether Labor would unveil an industry-wide package for the crippled tourism sector before the election campaign wraps up.
The Premier acknowledged the industry was struggling as a result of the pandemic but blamed the decline in tourism on international border closures.
"There are people coming to Cairns, it is the busiest Qantas route, from my understanding, in Queensland," she said.
"I am looking forward to the day when all of Australia can open up but we can only do that when it is safe to do so.
"We are always looking at new and exciting ideas. There will be further announcements made during the campaign."
The government offered a $5 million concessional loan for Cairns' Skyrail cableway, part of a previously announced relief package.
A Queensland budget surplus would be achieved in four years by "working extremely hard", LNP leader Deb Frecklington says.
Despite the COVID-19 pandemic's economic headwinds and a big-spending federal budget this week, Ms Frecklington is sticking to her guns that a balanced budget would be an aim of an LNP government.
Asked how this would be achieved, alongside big-ticket election pledges of her own, without cutting public sector jobs or service, she said: "by working extremely hard".
"By backing Queensland manufacturing business, by not wasting money on things like changing the hospital name, like making sure we control government expenses," Ms Frecklington added.
But she would not be drawn on how this squared with acceptances in the federal budget about spending out of the recession.
"We have ruled out any new taxes," she said.
At a later media conference in Cairns, Queensland Treasurer Cameron Dick said that meant the LNP had only one way to achieve its surplus.
"She said she would rule out tax increases, she said nothing about cuts. The LNP are hell bent on delivering a surplus and they will cut to do it," Mr Dick said.
Both major parties have now ruled out introducing any new state taxes or increasing existing ones until 2024.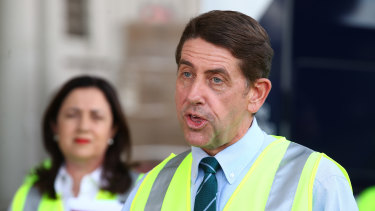 Treasurer Cameron Dick has extended his year long tax ban out until the next election.When releasing the state's economic update in September, Mr Dick was unable to rule out a tax hike past June 30 next year.
"We have no intention of increasing taxes or revenue at this stage," he said in September."But I cannot say what the future holds."
On Friday he promised "we are not increasing taxes".
"There will be no new taxes under a Labor government," he said.
Deb Frecklington had already promised no tax hikes under an LNP government.
The party has also ruled out forced redundancies and borrowing more money and is yet to release the coatings of its election promises.
Most of Labor's promises will be paid for with borrowed money.
Queensland Premier Annastacia Palaszczuk has labelled as "rubbish" claims by NSW Health Minister Brad Hazzard that he has "proof" she is being political over the border situation.
Ms Hazzard this morning alleged across multiple media interviews that he had evidence Ms Palaszczuk was being political in her decisions on the issue, but refused to provide the evidence when questioned further.
Asked about the comments on Friday while on the Queensland election campaign trail in Cairns, Ms Palascczuk said the claims were "absolute rubbish".
"Can he just concentrate on his own issues as Health Minister in NSW?" the premier asked rhetorically.
"Get on top of those cases, which is good we're seeing that happen in NSW and we're very pleased with that."
The Premier has repeatedly said she leaves border decisions to the Chief Health Officer Dr Jeannette Young
Ms Palaszczuk was asked whether she would reconsider a "regional hotspot" program as a way of lifting the blanket border lockdown, and said such a program had been drawn up but not pursued at a national level.
"There was a proposal that was supposed to go to national cabinet and for some reason unbeknownst to me the Prime Minister decided not to bring that forward," she said.
"The AHPPC had agreed, it is my understanding, on a set of terms and conditions and it never proceeded to national cabinet."
LNP leader Deb Frecklington has refused to say whether her would-be NSW counterpart is wrong in insisting the Queensland border reopening threshold is unachievable.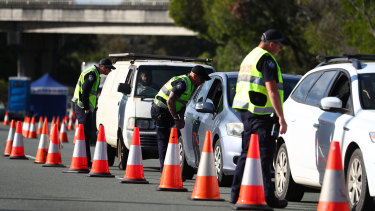 With the clock ticking to trace the source of one mystery case in the state, NSW Premier Gladys Berejiklian has called on Queensland to drop its 28-day community transmission trigger for the full border reopening.
The comments come as the LNP leader tries to differentiate herself from Premier Annastacia Palaszczuk on the issue of borders, with the pandemic still playing a large part in resident's lives.
But despite Ms Frecklington saying the Premier was "playing politics" with the border, she said she backed the advice that underpinned it.
After receiving caretaker briefings from Chief Health Officer Jeannette Young this week, she told reporters in Townsville the "health advice is that it is 28 days without community transmission and we accept that advice".
"I have always said it can't be set and forget," she said on the question of whether she would seek to have Dr Young amend the plan.
"I have always said that the borders shouldn't be … closed for a day longer than they need to be – but that is the current health advice and we accept that."
Asked if that put her at odds with Ms Berejiklian, she said it was a "matter for her", before adding: "What I'm focused on right now is the health and wellbeing of Queenslanders and keeping Queenslanders safe.
"The health advice for Queensland right now is that it is 28 days, we'll wait until we hear about that case in NSW – which I understand is 24 hours away."
After the short first week of the election campaign, we're asking for you to put your thinking caps on and caption our weekly image. See the link below for details.
Queensland Deputy Premier Steven Miles says the state government has not been "intimidated" by the Prime Minister over the border issue with NSW, but worries that NSW has "given up" on reaching 28 days with no community transmission.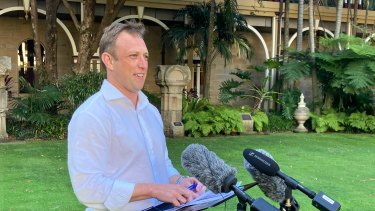 And he says he stands by his stance that the criticism from NSW and the Commonwealth is a political attack, while insisting Queensland has kept politics out of its health decisions during the pandemic.
NSW Health Minister Brad Hazzard on Friday accused Queensland of playing "silly games" on the border issue, and said under the current policy of requiring 28 days with no unknown community transmissions, the border could remain closed for "years".
Mr Miles, who is also Queensland's Health Minister, said he "didn't know what Brad was talking about".
"I know Brad is very eager to come to Queensland, he's desperate to get to Noosa, in fact I've promised to buy him dinner in Noosa when he is allowed to come back here," Mr Miles said.
"In NSW these decisions are literally political, they are made by a politician, whereas in Queensland we have a system that puts our Chief Health Officer in charge of those decisions and I think that's a much better system."
Mr Miles said he was disappointed by the NSW response to the issue.
"It just underlines how disappointing it is to see New South Wales admit that they don't share that aspiration, they don't aspire to that target, that they've effectively given up on that goal of 28 days of no unlinked transmission," Mr Miles said.
Annastacia Palaszczuk has made the biggest funding announcement of the state election so far – $1 billion to upgrade schools.
"We all know how important education is for Queensland and Queensland families," she said.
The Premier said the money would be spent to build 26 halls and performing arts centres, new classrooms at 46 schools and new playground and fencing.
"Not only will this mean more comfortable and modern education facilities but it also means a significant pipeline of work for local tradies," Ms Palaszczuk said.
Almost half of the cash to pay for the announcement will come from a $4 billion pot of money the government borrowed over the forward estimates.
The rest will come from a $51.8 billion infrastructure program that has already been announced.
Ms Palaszczuk is holding a media conference in Cairns on Day Four of the election campaign: