"We are more than happy and confident to back him in.
"There was never really any doubt in our mind to be honest, that was always the prognosis we were given.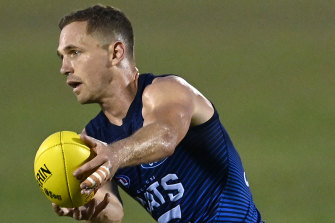 "We had done all our planning around him playing and so for us it's play on, nothing has really shifted from our original thinking."
Selwood injured his finger in the elimination final loss to Port Adelaide last Thursday and had surgery the day after.
The Cats skipper is no stranger to playing under duress or following injury.
Scott said on Friday that he hadn't felt the need to have a specific chat with Coleman Medal winner Tom Hawkins, who kicked 0.5 in the qualifying final loss to the Power.
"We'll back him in to convert when he gets his chances … 0/5 looks glaring but if you go through the shots, there weren't too many absolute sitters."
Scott also said he agreed with Pies coach Nathan Buckley that it was hard to take much from the clubs' last meeting, when Collingwood dominated the Cats in Perth in round seven, because of the strange season.
"Generally when we play Collingwood they've been high pressure games and low scoring games," Scott said.
"Collingwood would have confidence that they have been able to pressure us around the ball. Even the final where they beat us last year was a pretty low scoring game.
"They had control of the game because they got out to an early lead. After that they didn't score that much."
Real Footy newsletter
Get your finals' fix delivered straight to your inbox with our Real Footy newsletter. We'll have a preview of the matches and expert tips each Friday afternoon and on Mondays, chief AFL writer Jake Niall will wrap up the weekend's play. Sign up to The Age's newsletter here, The Sydney Morning Herald's here, WAtoday's here, and Brisbane Times' here.