Victorian Premier Daniel Andrews gave his 100th consecutive COVID-19 update on Saturday.
Prime Minister Scott Morrison speaks to the media on the Gold Coast.
Like many older people Zygmunt Swistak has felt loneliness through months of lockdown, but what makes his experience that little bit harder is that English is not his first language.
As coronavirus restrictions have sparked a surge in virtual electronic communication globally, the 96-year-old has found connections through a relic of the past: the handwritten letter.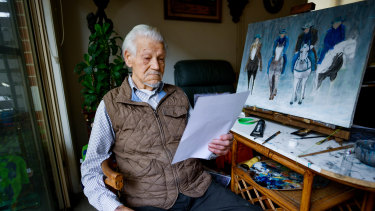 Through a program designed to connect elderly Victorians from culturally and linguistically diverse communities, Polish-born Mr Swistak has been trading letters with local children with the same heritage.
"For me, it's my heart, it's good for me. At the age of 96, I still feel useful for something," he says.
NSW Health has issued an alert for passengers on several Sydney train routes and two businesses in south-west Sydney which were used by people with confirmed cases of COVID-19 on October 6, 7 and 8.
In an alert on Saturday afternoon, NSW Health said anyone who attended the Squeeze & Grind coffee shop on Argyle Street, Camden on October 7 between 11.45am and 1.15pm is considered a casual contact and must monitor for symptoms.
Shoppers at Narellan Town Centre, on Camden Valley Way in Narellan, on October 8 between 12.30pm and 2pm are also casual contacts.
If any symptoms develop, they must get tested immediately and remain in isolation until a negative result is received.
Passengers on the following trains are also considered casual contacts and should monitor for symptoms and get tested if any develop:
Train from Eastwood at 8.15am arriving Parramatta 8.49 on October 6
Train from Parramatta at 4.50pm arriving Eastwood 5.21pm on October 6
Train from Eastwood at 8.14am arriving Parramatta 8.49am on October 7
Train from Eastwood at 12.18pm arriving Kings Cross 1.07pm on October 7
Train from Parramatta at 4.31pm arriving Central 5.02pm on October 7
Train from Central at 6.05pm arriving Eastwood 6.36pm on October 7
Train from Kings Cross at 9.35pm arriving Eastwood 10.34pm on October 7
Snoods, bandanas and scarves will not be considered appropriate COVID-19 face coverings in Victoria from 11.59pm Sunday.
The new rules will mean Victorians must wear fitted face masks covering their nose and mouth while away from their homes or risk a fine, unless if they have a medical exemption or are in a situation where it is not practical.
The Department of Health and Human Services confirmed that other popular options, like scarves and neck gaiters, would not be permitted.
People caught by police not wearing a mask could be fined $200.
"The mask must be fitted and must cover the nose and mouth. The Chief Health Officer recommends a mask with three layers," a health department spokeswoman said.
"Alternative options include a fitted face covering designed to protect you from coronavirus that covers your mouth and nose. It does not mean a scarf, bandana, loose neck warmer or loose snood."
Racing lovers, like Suzy and Chris Green, are preparing for a spring carnival like no other.
On days like Saturday's Caulfield Guineas meeting, chairman's club member Suzy would be frocked up and stocked up ready for a day in the members' area at The Heath.
By 8am, she would be queued up at the front of the members' entrance, ready to grab the best table available, revelling in the atmosphere and build-up to the biggest week on the Melbourne Racing Club's calendar.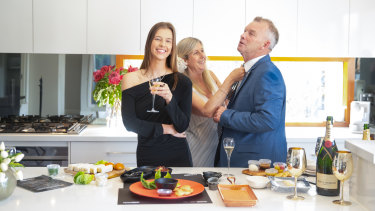 This year will be unrecognisable.
There won't be 28,000 cramming into the course to watch the Japanese pinch one of racing's most prized Cups. Instead, many will be forced to watch from the couch, as has been the case since March's All-Star Mile meeting at the same track.
Daniel Andrews took an oath, swearing on the Bible to tell the truth, the whole truth and nothing but the truth.
It was September 25 and he was on our screens for the second time that day, this time as the final witness at the hotel quarantine inquiry. Earlier, he had been in his accustomed position on the Treasury Theatre stage presiding over another press conference – his 85th in a row. His demeanour in both rooms was similar: calm, confident, in control.
But this was different. Before former judge Jennifer Coate Andrews was apologetic. He was not combative. For the first time he was providing answers to simple questions he had dodged for months.
"Would you agree with me that these issues of infection control were too important to be left entirely to private contractors [security guards]?" asked counsel assisting the inquiry Rachel Ellyard.
"Yes, I think I can agree with that statement given what's at stake, given the seriousness and infectivity of this virus, Ms Ellyard. I think that's a fair statement, yes."
Queensland deputy premier Steven Miles says he is "sick and tired" of people's "individual distress" being used to attack Queensland's border policies.
Mr Miles addressed a case reported in News Corp on Saturday morning of a high-profile businesswoman and her partner permitted to quarantine at home because her partner had cancer.
"It's important, I think, for us at the outset to say that these are all individuals who have a right to privacy, have a right to the privacy of their own health information," he said.
"When their applications are considered, there is no consideration whatsoever given to who they are.
"The only consideration is their circumstances, their health circumstances, their health needs, and where and how they can safely quarantine."
Mr Miles said while the media interest had centred on a handful of cases, including that of brain cancer patient Gary Ralph and his wife who were issued an exemption to quarantine at home yesterday, there were many exemptions and cases handled by Queensland health authorities each day.
"Frankly I'm a bit sick and tired of people trying to use individual's stories, the individual distress of people, to try to criticise the restrictions that have kept Queenslanders safe," he said.
Chief Health Officer Jeannette Young said the process was "fair" and since August 1 about 60 exemptions to quarantine at home had been issued for medical reasons.
"We have a very large team of around 110 people who assess all of the exemptions that come through.
"If there's any clinical component to the request for that exemption it goes to a clinician and they assess it, and then it goes to a team of five doctors that I have there now who assess all of those exemptions."
Dr Young said the department received "many, many thousands" of exemption requests. Mr Miles also addressed comments made by NSW Premier Gladys Berejiklian yesterday, after he accused the state of "giving up" on a target of 28 days with no unlinked community transmission.
The Premier said the idea the state had abandoned that target was "really offensive".
"Frankly, when she said that she thought that was unattainable, when she said that she thought that was impossible, well I took that to mean that they were not aiming for it," Mr Miles said.
Liverpool: The Cavern Club, a basement bar in central Liverpool where The Beatles found their fame, should be packed this weekend. Friday would have been John Lennon's 80th birthday, and the faithful planned to remember Liverpool's lost son.
The doors, though, are shut. A rapidly worsening second wave has taken hold in England's north, testing hospital capacity and triggering mass confusion over how the government will respond. The crisis is also ravaging Liverpool's world-famous live music scene, and not even its best-known venue is immune from the damage.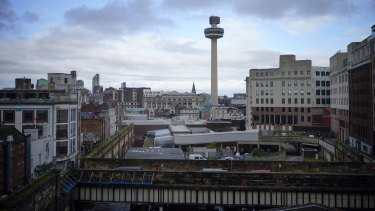 "It looks like a completely different city and feels like a completely different city," said the Cavern Club's co-owner, Bill Heckle.
"The locals are frightened to go out and other people in Britain have stopped travelling here, especially over the past two weeks. And of course there are no planes coming in from our major international markets.
"Everybody is just trying their best. We will get through it. George Harrison once said 'all things must pass', and it will, but it's looking like this problem is here for a bit longer than we hoped."
Oh Melbourne, you've been so patient. It's been more than three months since we first went into what was supposed to be a six-week lockdown. Remember the first time we pencilled the escape date into our calendars? We were giving up our freedoms to save lives. We have been united for a truly noble cause.
But here we are again, eyeing yet another date on the calendar when we might be released – or then again, maybe not. The numbers that horrified us when they climbed from 5 to 725 in two months now just taunt us, remaining stubbornly higher than the five-a-day threshold that might unlock the heady freedoms of step three: walking into shops, ordering a meal, travelling to another suburb for no reason at all.
The rolling fortnightly average has been hovering around 10, so people are already adjusting their expectations as the numbers jump around, fuelled by little clusters around the city's shops and hospitals.
Before the pandemic turned life as we know it upside down, Officeworks was a pretty traditional company. Employees who worked out of its Melbourne headquarters would show up to the office in Bentleigh East every day.
"Flexible work probably wasn't something that was widely adopted," says Rebecca Oakley, Officeworks' executive manager, people and corporate affairs.
But in March, the COVID-19 crisis triggered a radical social experiment, which overthrew the normalised split between work and home that emerged when the industrial revolution took most men out of the home more than 200 years ago.
Within days, anyone who could work from home had to work from home.
Six months later, the future of the office has changed forever at Officeworks. "We will without a doubt transition how we work," Oakley says.
Music from an apartment in Melbourne's south-east led police to a birthday party in the early hours of Saturday morning, where they fined 13 people for breaking COVID-19 restrictions.
When police busted into the Bentleigh apartment about 1.10am, they discovered party-goers crowded together without masks. Some had even fled to the nearby roofs, trying to hide.
"Several people climbed onto the roofs of neighbouring businesses and fled," a police statement said.
"Four party-goers were located hiding on the roof of neighbouring premises and received a fine once they came down."
Overall, police identified 13 people who were found to be in breach of CHO directions at the South Road party and fined them $1652.
The party fines are among 79 fines issued by Victoria Police in the past day for COVID-19 breaches, as the state recorded an additional 14 cases of coronavirus on Saturday.
Seven of the past day's fines were for failing to wear a face mask when leaving home and 11 were issued at vehicle checkpoints.