Mr Morrison said while he backed some aspects of Ms Palaszczuk's border closure to keep out the coronavirus, not every decision was being driven by the health advice.
Queensland has so far declined to sign up to the Commonwealth definition of a "hot spot", a three-day rolling average of three COVID-19 cases, allowing the state to keep its border closed to NSW.
"Everything should be driven by the health advice, and that health advice should be transparent, it should be clear to all, it should be backed up by the medical evidence that is available, and that should be openly shared," Mr Morrison said.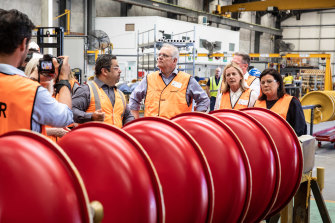 "You would only have borders in for as long as you absolutely have to have to them. Because the longer they're there, the more they do stop jobs.
"I spent 14 days in the ACT before coming up here, I didn't seek any special rules before coming to Queensland. I noticed [Mr Albanese] didn't spend 14 days, maybe Anna [Palaszczuk] is not so keen for him to come up here. Deb has been keen for me to come for some time."
Ms Palaszczuk has defended her state's tough border closure on the basis that she wanted to give her state certainty until NSW has zero community transmission.
While Mr Albanese has ruled himself out of visiting Queensland, the Labor leader will travel to Adelaide on Sunday where he will visit public housing tenants, talking up Labor's plan to spend $500 million on social housing and a universal childcare subsidy.
With the global pandemic squeezing Australia's fertility rate and population, Labor's early childhood education spokeswoman Amanda Rishworth on Saturday said the opposition's childcare plan was backed by economists, businesses and the industry.
"The only group that doesn't seem to be on board is the Morrison government," she said. "The Morrison government's response to Labor's plan has been to say there's no problem with the system.
"Tell that to the hundreds of thousands of families struggling with the cost of child care, and all those women wanting to get back to work and actually not being able to afford to go full time because of the cost of child care."
Treasurer Josh Frydenberg said his message to all Australia was that "having a son or a daughter is great news for them and also great news for the economy".
"Population is going to see its slowest growth In more than 100 years and net overseas migration is going negative for the first time In 46 years. That's a function of COVID-19 and the restrictions we are seeing on our borders."
Anthony is foreign affairs and national security correspondent for The Sydney Morning Herald and The Age.
Tom Rabe is Transport Reporter with The Sydney Morning Herald.