Speaking from his balcony days after being discharged from hospital, Trump today delivered a buoyant, but short, speech to black and Latino supporters, claiming that if Joe Biden and the Democrats win in November "they'll launch a nationwide crusade against law enforcement".
The White House has not traditionally been used for overt political events, but Trump has regularly defied democratic norms, including using the venue to deliver his keynote speech at the Republican National Convention in August.
"You get it," he told the audience, most of whom were wearing masks but not socially distancing.
"I just want to thank you. Get out and vote – we've got to make this bigger than four years ago… This is the single most important election in the history of our country."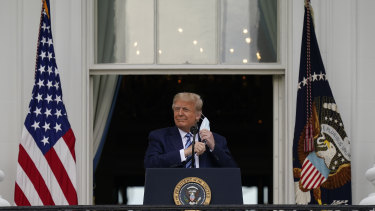 Loading
The event was the first public gathering Trump has held since contracting the virus, which has so far also killed more than 214,000 Americans and infected dozens of people within his orbit.
It took place amid ongoing concern about the President's health and the safety of attendees, with experts warning that returning to public events too soon could risk infecting more people.
While the President has repeatedly claimed he feels "great", the state of his health remains unclear due to inconsistent information and ongoing secrecy from his administration.
During a televised "medical evaluation" on Fox News on Saturday (AEDT), for instance, Trump insisted that "I didn't have a problem with breathing" after he got the virus – even though his doctors had admitted he was forced to have supplementary oxygen after his levels dropped.
Conley's memo also did not explicitly say that Trump has tested negative for the virus, but gave the President enough scope to justify his desire to escape the confines of the White House and return to the campaign trail as soon as he can.
Following today's event, Trump is expected to fly to Florida on Monday (US time) for one of his trademark rallies, followed by events in Pennsylvania and Iowa in subsequent days.
Today's event was as much a show of strength over his condition, as it was an appeal to black and brown communities, most of whom have traditionally voted for the Democrats.
The speech lasted for about 15 minutes, with Trump using it to thank police, spruik his administration's criminal justice reforms, and talk up his so-called "Platinum Plan" which promises record reinvestment in black communities over the next four years.
The attendees were part of a group known as "Blexit", which aims to convince African Americans to leave the Democrats. Most were wearing matching blue T-shirts emblazoned with the group's name.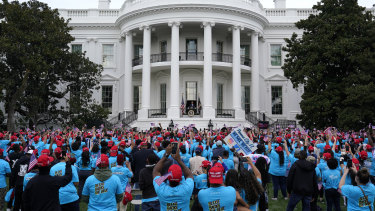 Biden, meanwhile, spent the day campaigning in the swing state of Pennsylvania in a bid to win back some of the working class communities that Hillary Clinton lost in 2016.
So far, multiple people within Trump's orbit have been infected by the virus, including first lady Melania Trump, senior aid Hope Hicks, Republican National Committee chairwoman Ronna McDaniel and a number of GOP senators.
Farrah Tomazin is a senior journalist covering the 2020 US presidential election.