Loading
Among the benefits would be the displacement of some 876,000 tonnes of carbon dioxide emissions, and a reduction of load-shedding risk to some 770,000 customers as coal-fired plants shut, according to an accompanying document seeking government fast-track approval for the project.
The new plant is within the New England Renewable Energy zone, one of three designated regions for supporting clean energy in the state. Its development would enable more clean energy to be added to the grid.
"[T]he current capacity to [can] host only 300 MW due to insufficient network infrastructure," the document says. "The project's 12 hours of flexible and fast=acting
storage will directly help to overcome this challenge and accelerate the implementation of the [zone]."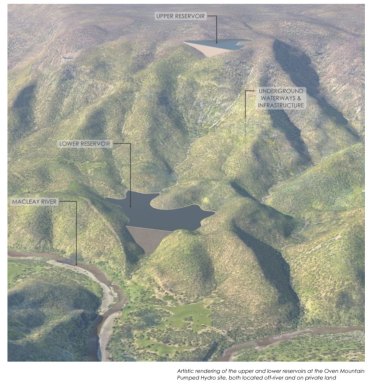 Energy and Environment Minister Matt Kean said that pumped hydro was "essential for the state's energy future", using off-peak power to pump water to the higher dam and releasing it went prices rise.
Loading
"The Australian Energy Market Operator says that NSW needs more than twice the energy storage of Snowy 2.0 again by the mid-2030s and projects like Oven Mountain can help us reach that goal," Mr Kean said in a statement.
"It can take about eight years to deliver massive pumped hydro projects and we need to get going now to create jobs and improve the reliability of the energy grid."
Adam Marshall, Agriculture Minister and the MP for the Northern Tablelands, said regional NSW had some of the best pumped hydro resources in the world. It would also support the local economy by creating some 600 new jobs during construction alone.
Loading
"This project is the jewel in our region's renewable energy crown and cements the New England as the renewable energy powerhouse of Australia," Mr Marshall said.
"We're already home to the two largest wind farms in NSW and the largest solar farm in Australia is about to start construction, so this project is the cherry on top of us."
The government is providing about $2.5 million to support the Oven Mountain project's feasibility study from its $75million Emerging Energy Program.
The program is supporting investigations into the prospects for three pumped hydro projects in NSW.
The proponent will still need to request assessment requirements for the preparation of an Environmental Impact Statement Once received, the EIS will then on exhibition for community feedback and detailed assessment by the Department of Planning, Industry and Environment before a final decision is made, the government said.
Peter Hannam writes on environment issues for The Sydney Morning Herald and The Age.
Most Viewed in Environment
Loading