V/Line chief executive James Pinder was suspended from his role in August along with Metro Trains' head of fleet operational support Peter Bollas, in the wake of the probe. The homes of both men have been raided by IBAC investigators.
Multiple sources in the industry say the pair are close friends after working together at Metro, before Mr Pinder was poached by V/Line. Mr Bollas reported to Mr Pinder when he was general manager for rolling stock between 2012 and 2016.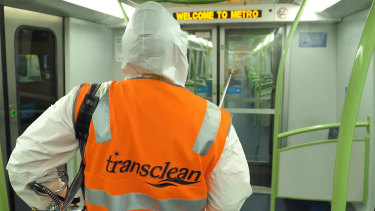 Mr Bollas has been managing cleaning contracts at Metro Trains, which has contracted Transclean over the past decade.
About two years after Mr Pinder joined V/Line in 2016, the agency awarded Transclean its cleaning contracts under a tender process, dumping a long-running contractor.
Loading
The Age is not suggesting this arrangement was improper.
The dumped contractor, Borg Corporate Property Services, is suing V/Line in the Supreme Court, alleging it has been underpaid by the government agency.
Well-placed sources said Mr Pinder wanted to boost the quality of cleaning across V/Line and aimed to raise the network's hygiene standards to match the suburban network and operations overseas.
Transclean got into hot water in 2015, when a worker won an unfair dismissal case against the company at the Fair Work Commission.
Loading
Metro launched an independent audit into Transclean in the wake of alleged worker underpayments, which cleared the cleaner of wrongdoing.
However, Metro did not renew the company's contract to clean its stations in 2017. It continued the company's smaller, rolling stock cleaning contract.
When approached by The Age about the raid, Transclean's general manager Nelson Aguila said the business had an open door policy to any investigation.
"We provide many services to the transport sector over many years and will continue to do so," Mr Aguila said.
"We maintain an open door policy to any investigation and hope there is a speedy resolution to the investigation."
A V/Line spokesman would not comment on the matter, as it was under investigation by IBAC. "It would be inappropriate to make any further comment regarding an ongoing investigation."
Timna Jacks is Transport Reporter at The Age